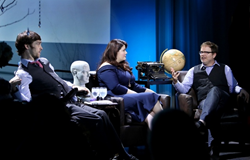 If I could hear my own funeral, I'd have someone come over to double-check my pulse.
CLAREMONT, Calif. (PRWEB) January 22, 2015
Celebrity comedians, academic experts and national leaders in interfaith and social change came together for Claremont Lincoln University's inaugural summit, "Uncomfortable Conversations," held to promote important but difficult discussions about life's most sensitive topics.
The Jan. 9 and 10 event featured a gala dinner event with comedians Rainn Wilson and Zach Anner, followed by a daylong symposium featuring journalist and author Susan Katz Miller; Dr. Lyn Boyd-Judson of the Levan Institute for Humanities and Ethics; international research and evaluation expert Dr. Kim Sabo Flores; and Shabnam Mogharabi, CEO and Executive producer of SoulPancake.
Humor was the theme during the gala; a more serious tone took place during the academic sessions on day two.
"Whenever you can get people to laugh together," Anner explained, "they begin to understand and relate to each other."
"Comedy opens doors to conversation," said Wilson, who along with Anner answered questions before an audience at Padua Hills Theater on everything from the meaning of life to death itself.
Question: If you could attend your own funeral, what would you like to hear said about you?
"If I could hear my own funeral," Anner quipped, "I'd have someone come over to double-check my pulse."
"I guess that could be the thing I'd like to hear," Wilson interjected. "Wait a minute! He's still alive!"
Popular for his role as paper salesman Dwight Schrute on "The Office," Wilson spoke about his work after the popular sit-com – founding SoulPancake, an online video platform of programming that promotes social good, along with his work using education and arts to help girls in Haiti through his nonprofit, Lide.
He started SoulPancake as a means to address what he called a growing void in society today.
"Technology is advancing, but we're not growing spiritually," Wilson said. "Humanity needs both of these things to soar."
At the conference part of the summit, held at the Claremont University Consortium, Katz Miller addressed the increase of intermarriage – both racial and religious – in her presentation, drawing from her own experiences and through years of research outlined in her newly published book, "Being Both: Embracing Two Religions in One Family" (Beacon Press).
Dr. Kim Sabo Flores, an international expert in social science, outcome measurement and analytics, discussed methods for gathering data and evaluating the success and future outcomes of social initiatives.
Boyd-Judson engaged audience members in ethical dilemmas, the type chronicled in her many writings including her recent book, "Strategic Moral Diplomacy: Understanding the Enemy's Moral Universe."
Mogharabi, speaker at Claremont Lincoln University's "Gathering" for students, alumni, faculty and friends, described her path from journalist to SoulPancake CEO and the role that ethics play in her life.
She spoke on the challenges of aligning personal and business ethics, citing one instance in which she had to turn down a lucrative proposal from a globally recognized brand because it conflicted with the mission of Soul Pancake. But instead of storming away in anger, the company responded positively and worked with SoulPancake to develop a messaging campaign focused on some of the positive projects the brand was implementing throughout the world.
"Shabnam's story illustrates the importance of ethics and how being ethical can lead to more positive results," CLU President Eileen Aranda said. "It's this type of real-world application that we want our students to understand and apply in their own work around the world."
ABOUT CLAREMONT LINCOLN UNIVERSITY
Claremont Lincoln University is a graduate institution that immerses students in a dynamic learning community that leverages pluralistic perspectives to promote richer thinking toward transformation. Our mission is to put wisdom to work in the world, and our proprietary Claremont Core methodology enriches the learning experience with mindfulness, dialogue, collaboration and change, enabling students across a variety of sectors to implement change for good. The university offers master's degrees in Ethical Leadership, Interfaith Action and Social Impact. http://www.ClaremontLincoln.org