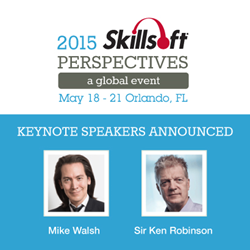 Now more than ever, leaders and innovators need to come together to discuss creative solutions for the challenges and opportunities facing today's organizations.
NASHUA, N.H. (PRWEB) January 22, 2015
Skillsoft today announced that Sir Ken Robinson, an internationally-recognized authority on creativity and innovation in education and business, and Mike Walsh, author, futurist and CEO of Tomorrow, will deliver keynotes for its 2015 Global Skillsoft Perspectives annual user conference, May 18-21 at Rosen Shingle Creek in Orlando, Fla.
Hundreds of the world's strongest-performing global organizations will come together at Perspectives to collaborate on how a learning-centric approach to managing, developing and retaining talent is driving business value. At the conference, themed "Align, Engage, Perform: Talent in the Learning Age," attendees will have the opportunity to network with industry professionals, join workshops on key HR topics and participate in hands-on sessions spanning learning and talent solutions.
"Success in today's business climate requires creativity and innovation from organizations and their leaders, particularly when workforce flexibility and adaptability will determine who leads the pack," Robinson said. "Now more than ever, leaders and innovators need to come together to discuss creative solutions for the challenges and opportunities facing today's organizations."
During his keynote presentation, Robinson will inspire attendees by identifying best practices that drive systematic innovation and a competitive advantage. Business leaders will learn about Walsh's philosophy on how to achieve organizational success amid rapidly evolving workforces, markets and technology.
"2015 Global Skillsoft Perspectives, the first joint event for Skillsoft and SumTotal Systems customers, will highlight individuals and organizations that are successfully building learning cultures to engage and empower employees in ways that improve individual performance and drive businesses forward," said Jerry Nine, Chief Operating Officer, Skillsoft. "This year's conference is shaping up to be our biggest and best to date. In addition to welcoming SumTotal customers, we are excited to have two widely-respected speakers present on learning and business innovation for our customers and attendees."
At the event, Skillsoft will announce the 2015 Innovation Award winners, organizations being honored for their work in talent and learning management. Skillsoft and SumTotal customers are encouraged to submit for a variety of distinctions, including Program of the Year, Talent Development Champion of the Year, Inspiring Leadership Development and Empowering Continuous Talent Development, among others. Entries must be submitted by Feb. 20 and can be found here: http://perspectives.skillsoft.com/2015/nominations/.
The early bird registration date for the conference has been extended to March 6. Register now at the following link to save $300: http://perspectives.skillsoft.com/2015/index.asp.
Tweet this: #Perspectives15 will feature keynotes from @SirKenRobinson and @mikewalsh! Register now: http://bit.ly/1Bfyqkj
About Skillsoft
Skillsoft is a pioneer in the field of learning and Talent Management with a long history of innovation. Skillsoft provides cloud based learning solutions for its customers worldwide, ranging from global enterprises, government, and education to mid-sized and small businesses. Skillsoft's customer support teams draw on a wealth of in-house experience, flexible delivery platforms and a comprehensive learning e-library to develop off-the-shelf and custom learning programs tailored to cost-effectively meet customer needs. Skillsoft's courses, books and videos have been developed by industry leading learning experts to ensure that they maximize business skills, performance, and talent development.
Skillsoft currently serves over 6,000 customers and more than 19,000,000 learners around the world. Skillsoft is on the web at http://www.Skillsoft.com.
Skillsoft, the Skillsoft logo, Skillport, SkillChoice, Books24x7, and learning-centric Talent Expansion are a partial listing of the trademarks or registered trademarks of Skillsoft Ireland Limited in the United States and certain other countries. All other trademarks are the property of their respective owners.