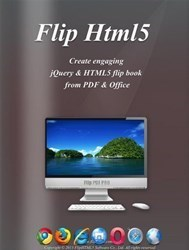 (PRWEB) January 24, 2015
FlipHTML5 free ebook publisher offers customized domains for Platinum and Enterprise memberships, increasing the exposure of the respective brand and adding more value to the brand name.
Building brand awareness among the public and gaining the trust of the target audience play a key role in marketing. It is necessary to ensure the company's brand is recognized for its reliability and high quality among the potential customers. FlipHTML5 digital publishing platform acted in accordance with the entrepreneurs to fulfill this necessity by providing a platform to create alluring and versatile online publications. By now, many brands have managed to enhance the brand exposure up to some extent with the help of the FlipHTML5 free ebook software.
FlipHTML5 took one more step forward to offer the premium users a better experience and to help them achieve their marketing goals faster. FlipHTML5 has decided to offer Platinum and Enterprise users the opportunity to use their own prestigious domains when uploading a digital publication to the FlipHTML5 Online Platform. In general, publications are automatically served on the fliphtml5.com domain when they are uploaded on the cloud website. Unfortunately, this restricts the true potential an online publication could achieve in terms of brand awareness. On the other hand, publishers and entrepreneurs are willing to add their flipbook product catalogs, online magazines and brochures using their own brand.
The new update not only facilitates to use a respective domain in the digital publication's URL but also allows the users to customize flipbooks with their own domain, logo, branding colors and style. Both of these new additions will offer a winning edge over the ordinary digital publications with the default domain for Platinum and Enterprise account holders. Besides, for many general FlipHTML5 users the new feature will be a revelation on the prestigious advantages one could gain by acquiring the Platinum or Enterprise membership of the online publishing platform.
To learn more about the FlipHTML5 digital publishing platform and this new update, visit http://fliphtml5.com/.