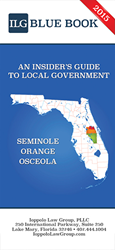 "This is an incredibly convenient resource for our ever-growing region... I'll definitely have one on my desk and one in my briefcase," - Mike Ertel, Seminole County Supervisor of Elections
Lake Mary, Florida (PRWEB) January 22, 2015
Ioppolo Law Group Releases An Insider's Guide to Local Government
The Ioppolo Law Group (ILG) has made available to the public its insider's guide to local government. In its continuing effort to "work smarter," ILG originally developed the reference book for their staff, but quickly realized it could be an invaluable resource for the whole community. The guide puts all government lists and contacts for Seminole, Orange and Osceola counties at users' fingertips. If you need to know who the chairman of the Osceola County School Board is, what groups have input and jurisdiction on zoning and development issues in Seminole County or how to order copies of Official Records in Orange County, this book will have those answers, and more.
Although government and civic groups have made a valiant effort to make information available to the public, accessing multiple websites or phone books can be confusing and time consuming. ILG's new book reduces the search to one easy step. "This is an incredibly convenient resource for our ever-growing region. The Blue Book will give you a bevy of data and contacts all in one booklet. I'll definitely have one on my desk and one in my briefcase," said Mike Ertel, Seminole County Supervisor of Elections.
"As a city commissioner and the president of the Tri-County League of Cities, I know how challenging it can be to make effective contacts with elected leaders and staff throughout Central Florida. As the Vice President for Public Affairs for a large corporation, I know how important those contacts are when you are facing challenges and opportunities in a fast paced business environment. The ILG Blue Book is an invaluable tool that provides current, relevant information users need, and I would recommend it to anyone doing business with local governments," commented Joe Durso, Deputy Mayor for the City of Longwood and President of the Tri-County League of Cities.
"The members of our Chamber of Commerce are often looking for opportunities to do business with local governments," observed Jason Brodeur, Florida House of Representatives (District 28) and President of Seminole County Regional Chamber of Commerce. "The ILG Blue Book makes it easy to figure out who to contact and how to move your plans forward. We are very pleased to be a sponsor of the 2015 edition."
In deciding to make the book publicly available, Frank Ioppolo, Managing Partner of ILG said, "clients would see us using the Blue Book and want a copy. Now they are asking for our books covering other counties. We should have the Miami-Dade County edition out within weeks, followed by books covering Hillsborough, Pinellas, Brevard and Volusia counties shortly thereafter."
The Insider's Guide will be freely available on the law firm's website http://www.ioppololawgroup.com or at http://www.ilgbluebook.com, and through an iPhone/Android app that will be released in the coming weeks. A hard copy of the Insider's Guide is available for $5.00 through the firm's website.
Ioppolo Law Group. The Ioppolo Law Group (ILG) is a business law firm. Its practice focuses on transactional law, corporate finance, advertising law, technology law, and government affairs and lobbying. ILG also offers business consulting and professional negotiation services, as well as mediation services. What sets it apart from other law firms, no matter the size, is the business experience of its people. Each of the attorneys and business consultants at ILG has held both business executive and legal positions in public or private companies. Thus, they can view transactions from both the business and legal perspectives.
For more information, please visit http://www.ioppololawgroup.com, or call 407. 444.1004.
Media Contact:
Frank S. Ioppolo, Jr., Esq.
Managing Member
407.936.3645
frankjr(at)ioppololawgroup(dot)com