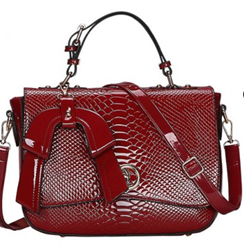 Each handbag has its own story.
(PRWEB) January 24, 2015
The candy color is a popular color tone that is mainly in the female colors of lemon chiffon, lemon yellow, royal blue, jasmine green, light violet and so on. Fecbek recently unveiled a Valentine's collection of candy colored bags just in time for spring. Fecbek is best known for providing the latest clothing and accessory trends at low prices, and these candy-colored bags will be equally affordable. The big discounts on this collection is up to 60% off.
The new collection is named "Best Gifts For Lovers." All the items follow the style of simplicity, casualness and fashion. Just like sweet love, which can stir one's heart, the bags on this collection have a fine texture to stir the heart of lovers."We hope the lovers can choose our bags as Valentine's present," Alice, the designer, says.
Fecbek deeply understands the meaning of gifts for lovers. So it provides lovers a selected series of fashion-forward yet timeless handbags, clutches, totes, and more for the gift giving time. The designers of this elegant collection injected both brilliant colors and soft lines into the new arrivals. With the candy colors and mental zips, the designers created their excellent works, which will be the best choice for lovers. Each handbag in this collection has its own story to help customers keep sweet memories.To find out more, please visit http://topics.fecbek.com/valentine%27s-day-promotion-bags.html
About Feckbek.com
Fecbek.com is a leading online retail and wholesale store specializing in selling clothing, shoes, bags, wedding and occasion dresses, cosplay, costumes and beauty products. With a wide selection of products at a low price, the company has been universally recognized for honesty, high efficiency and thoughtful services; it has built a long-term relationship with many customers.
For more information, please visit http://www.fecbek.com/.