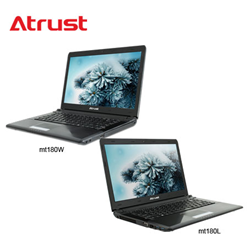 Taipei, Taiwan (PRWEB) January 27, 2015
Reliable connectivity, security, great performance
Atrust mt180W and mt180L designed for "anywhere" access to virtualization environments and benefit mobile workers who need to travel with light device and gain quick, secure access to data stored on a remote server in the cloud.
Key features on the Atrust mt180 include:

Inherently secure. Atrust mt180 uses the latest dual-core Intel Bay Trail processor and TPM chipset to help workers stay productive and protect data with an optimized secure connection while at remote sites.
mt180W. With Microsoft Windows® Embedded Standard (WES) 8 operating systems, users can enjoy the Windows experience they already know and rest easy knowing that their critical data is stored on a secure remote server, whether they are in the office, at home or traveling. Atrust mt180W comes with 2GB DRAM and 8GB flash memory and Flash memory can expand up to 32GB.
mt180L. Atrust mt180L is equipped with the same powerful Intel Bay Trail processor, Atrust Linux operating system and 2GB DRAM and 4GB flash memory. mt180L provides an enterprise-level secure environment. mt180L delivers mobile workers a highly secure and reliable platform.
Intuitive, easy management with Atrust Device Manager. The latest version of Atrust's powerful device management tool comes preinstalled on the Atrust mt180, allowing businesses to easily configure, deploy and reimage Atrust's thin clients—even when employees are on the road.
Easy travel with a compact, lightweight design. With a 14-inch diagonal high-definition display and a starting weight of 1.7kg, the Atrust mt180 is ideal for mobile workers who require secure and reliable access to their data while on the go.
Both mt180W and mt180L can support major protocols and applications, such as VMware® Horizon View™, Citrix® XenDesktop™, Citrix® XenApp™ and Microsoft® RDP™ with RemoteFX™.
Established in 2007, Atrust is a creative, professional, and enthusiastic team which has rich experience in designing, producing Thin Client, Zero Client, Server and Management Software. The objectives of Atrust are to provide customers with high quality, high efficiency and environmental friendly products as well as comprehensive solutions. For more information on Atrust is available on http://www.atrustcorp.com.