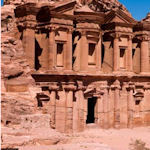 Jordan's diversity, culture and history, coupled with iconic landscapes without the need for a long haul flight are a real draw for adventurous travellers and families alike
Brighton, UK (PRWEB UK) 22 January 2015
The list, based on bookings made via the company in 2014, has shown that the Middle-Eastern country has not only successfully weathered the unrest troubling its nearest neighbours, but has actually grown in popularity with adventure travel enthusiasts with bookings increasing by 36% in 2014 compared to the previous year.
The site's most popular trip includes a two full days to explore iconic Petra, the famous Rose-Red City and one of the New 7 Wonders of the World, the opportunity to head into the desert to camp with the Bedouin at Wadi Rum, to float in the salty waters of the Dead Sea and to snorkel among the Red Sea corals.
Based on Responsible Travel's 2014 bookings, the top 10 adventure holidays are:
1. A Week in Jordan - http://www.responsibletravel.com/holiday/4154/jordan-holiday-a-week-in-jordan
2. Activity Holiday in Montenegro
3. Altiplano de Granada Activity Holiday, Spain
4. Small Group Burma Holiday
5. Sea Kayaking Holiday,Croatia
6. Cuba Adventure Tour
7. Activity Week in Croatia
8. Croatia Activity Holiday
9. Husky Safari Holiday in Finland
10. Family Sea Kayaking Holiday in Croatia
As can be seen from the above, while Jordan tops the list of individual holidays, the most popular overall destination for adventurous travellers is Croatia with 4 of the 10 most booked holidays based in the country. Sea kayaking around the country's multitude of islands is one of the most popular adventure activities, with 3 of the trips including this at some point in their itineraries.
Responsible Travel co-founder and managing director, Justin Francis, says "At Responsible Travel we're here to connect the world's best small holiday companies with people looking for real and enriching holidays.
"Jordan's diversity, culture and history, coupled with iconic landscapes without the need for a long haul flight are a real draw for adventurous travellers and families alike."
Speaking about the top Jordan holiday Justin Francis says "We are seeing more and more people wanting a deeper experience from their holiday and this trip, which engages with local Bedouin communities and encourages travellers to immerse themselves in local culture, food and landscapes does just that".
High resolution images available on request.

Notes to Editors:
About responsibletravel.com
responsibletravel.com is the world's leading online travel agent for responsible holidays and a pioneer of responsible tourism. Started in 2001 with backing from Dame Anita Roddick of The Body Shop the site's mantra is 'travel like a local'. It sells holidays that are about more than just a brief stay somewhere - instead it is travel that offers a real connection with the people, the landscape, the culture, the food and the environment. It offers over 7,500 responsible holidays from over 3,000 holiday providers which all support communities and conservation. Handpicked local specialists provide authentic holidays for those seeking types of holidays as diverse as safaris - http://www.responsibletravel.com/holidays/safaris, cycling - http://www.responsibletravel.com/holidays/small-group-cycling and photography- http://www.responsibletravel.com/holidays/photography.
In addition responsibletravel.com:
Is quickly becoming the leading online publisher of responsible tourism content with an expanding portfolio of 130 travel guides by February 2015.
Founded and organises The World Responsible Tourism Awards, celebrating 11 years at World Travel Market this year.
Campaigns for positive change in the travel and tourism industry.
CEO Justin Francis has been included in Courvoisiers The Future 500, Thames and Hudsons 60 Innovators Shaping Our Creative Future and taken his place on the Advisory Board of The International Centre for Responsible Tourism at Manchester Metropolitan University.
The company is based in Brighton's North Laine district, England.
Contact:
Sarah Bareham
press(at)responsibletravel(dot)com
01273 829 269 (UK)