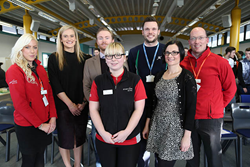 It has been very good to get some advice from professionals and hear about the opportunities that are out there
Harold Hill, Romford, Greater London (PRWEB UK) 24 January 2015
Learners on the BTEC Sport and Romford Football Academy programmes at the college's Quarles Campus in Harold Hill, Greater London, were informed about the different job opportunities and educational pathways in sport.
A number of speakers presented to the students about how they themselves developed their careers in the sports industry.
Guests included:

Chris Pipe (company director, Premier Sports) and his colleague Danielle Groves (HR and marketing manager)
Scott Fenwick (sports manager, David Lloyd Leisure, Bushey)
Dan Humphries (manager of Everyone Active, Central Park Leisure Centre) plus his colleagues Lauren Evans (assistant fitness manager) and Vicki Ward (senior membership manager).
Cara Smith (relationship manager, UCFB Wembley)
Cara Smith told students the sports industry was a growth industry with around 15 million people in Europe working in sport-related industries.
She advised: "Qualifications alone will not get you a job. You need to be networking, doing voluntary work or working part time in the industry to get the contacts and good references that will prove you are passionate, determined and have the drive to make your career in sport."
First Year Level 3 BTEC Sport student Gent Mark Marqueshi, 27, from Barking, "My ambition is to finish this course, go to university to study Sports Management and hopefully become a football manager. It has been very good to get some advice from professionals and hear about the opportunities that are out there."
The event was organised by Havering College in conjunction with the Our Talented Future employment consultancy. It was one of a series of course related industry days being staged across the college.
Mark Smithers, head of school for Hospitality, Sport and Public Services, said: "We really appreciate the employers coming out to support our sports industry day. Students found it interesting and asked questions. They found it really helpful.
"We want all students across the college to get involved in these industry days as we want them all to leave with a good idea of a job or a career that they can pursue."
For further information on Sports courses email information(at)havering-college(dot)ac(dot)uk or call admissions on 01708 462801.