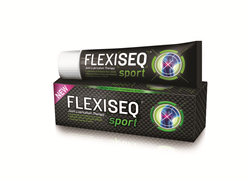 FLEXISEQ Sport offers everyone the safe option in pain relief and joint maintenance. Everyone, young or old, professional or amateur, needs to stay mobile for a fit, productive and happy life.
London (PRWEB UK) 22 January 2015
FLEXISEQ Sport launches today in the UK, for all active people (including athletes and members of the armed forces), who want to protect and care for their joints.
Drug-free FLEXISEQ Sport is screened to be free of any trace substances banned by the World Anti-Doping Agency (WADA) and comes in a hotly anticipated 100g pack-size to treat and protect multiple joints.
Regular exercise can place strain on joints and FLEXISEQ Sport allows users to stay active without the distraction of joint pain and stiffness, overuse of painkillers or worries about doping. The product has been tested in the hardest impact sports to ensure it can meet any challenge.
FLEXISEQ Sport is suitable for all active people and has been tested on and developed with professional athletes, across many sporting disciplines to manage joint pain and restore function, without the use of drugs. While the product is clinically proven to relieve the symptoms of all stages of osteoarthritis, including pain and stiffness, its use in sport has generated some remarkable examples of injury rehabilitation.
Shaun Barker, Derby County FC Club Captain said, "Almost three years ago I suffered an injury that was considered career ending. I ruptured all ligaments in my knee and suffered cartilage damage. Since then I have been on an intense rehabilitation programme and I am delighted to say that I am now back to training with the U21 squad. FLEXISEQ Sport has helped me deal with the pain and stiffness I regularly experienced in my knee, especially after a more intense rehab session. I use FLEXISEQ Sport at least twice a day to keep my recovery on track."
John Mayo, CEO of Pro Bono Bio said, "Use of pharmaceuticals is an unsatisfactory option to manage joint pain as they only mask the pain and can cause side effects. Just last week oral diclofenac was forced off the shelves to prescription-only status, due to serious heart risks. The overuse of NSAIDs in sport is well known to be a problem. FLEXISEQ Sport offers everyone the safe option in pain relief and joint maintenance. Everyone, young or old, professional or amateur, needs to stay mobile for a fit, productive and happy life."
Saracens, England and British & Irish Lions rugby player, Brad Barritt and Northampton Saints, England and British & Irish Lion, Alex Corbisiero, are two elite athletes who use FLEXISEQ Sport as part of their preparation and recovery programmes, in addition to a number of professional rugby clubs including Leicester Tigers and Saracens. Overseas, FLEXISEQ Sport is being used by German international ski jumper Ulrike Gräßler, while ex- South African international cricketer Neil McKenzie uses the product to relieve his knee pain.
England centre Brad Barritt, said, "This product has been an absolute revelation since I started using it – it's a key part of my conditioning and my game preparations and it's good to know that it meets the strict anti-doping standards."
Ulrike Gräßler said, "I experience extraordinary forces on my knees when I jump. Over 16 years of competition, these forces have taken their toll on my knees. I can't take risks with drugs and medical products, so FLEXISEQ Sport helps me avoid pain and stiffness. I feel like my knees are protected by cotton wool".
Nick Baverstock, Director of Sports at Pro Bono Bio said, "FLEXISEQ Sport has been launched to satisfy the demand we've had from active people for a product that protects their joints from pain and stiffness. Professional and other serious athletes know the product not only alleviates joint pain and restores physical function but also can be used with confidence that it meets the strictest anti-doping rules of sport and other spheres of life. FLEXISEQ Sport can help look after the joints of anyone wanting to stay active."
FLEXISEQ Sport is available at all Lloyds Pharmacies from 1st February and from good retailers from mid-March 2015.
For further information please contact:
John Mayo
Pro Bono Bio
+44 20 7291 5456
karen(dot)frost(at)pbbio(dot)com
Michael Earl
Pro Bono Bio
+44 20 7291 5446
lucy(dot)parker(at)pbbio(dot)com
About FLEXISEQ® Sport:
FLEXISEQ Sport is the sister brand of the revolutionary osteoarthritis product, FLEXISEQ. Continuing its pioneering heritage in treating joint pain and stiffness, the product has been developed in collaboration with professional sportspeople in order to meet the demands of athletes and other active people. Every batch of FLEXISEQ Sport has been screened and cleared for substances that are banned by the World Anti-Doping Agency (WADA).
About FLEXISEQ®:
FLEXISEQ is a topically applied drug-free gel which is clinically proven to safely relieve the pain and improve the joint stiffness associated with osteoarthritis (OA). There is extensive clinical data available from several randomised, double-blind clinical trials and FLEXISEQ is approved as a medical device for the treatment of all joints affected by OA.
FLEXISEQ is unique - it lubricates your joints to address joint damage. Pain is relieved and joint function improved because it lubricates away the friction and associated wear and tear on a user's joints.
About Pro Bono Bio:
Pro Bono Bio plc is the world's leading nanotechnology company offering health and lifestyle products, headquartered in London with operations in Europe, Africa and Asia and due to launch in CIS and North America.
About the Withdrawal of Diclofenac:
14th January, 2015: MHRA announces that diclofenac was associated with an "increased risk of heart problems" and reclassified the drug to "prescription only". http://www.gov.uk/drug-device-alerts/drug-alert-oral-diclofenac-presentations-with-legal-status-p-reclassified-to-pom
About Active Lifestyles:
13th January, 2015: a large study report was published on the importance of an active lifestyle on health and longevity. Am J Clin Nutr doi:10.3945/ajcn.114.100065.