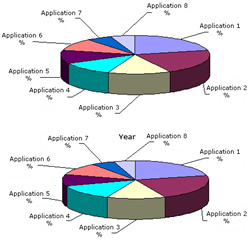 The global nonwoven filter media market is expected to reach $5.7 billion by 2019
(PRWEB) January 22, 2015
BCC Research (http://www.bccresearch.com) reveals in its new report titled Nonwoven Filter Media: Technologies and Global Markets, while North America and Western Europe still make up half of the nonwoven filter media market, the accelerated industrialization and rising incomes of China, India and other Asian countries are rapidly driving the global market. A 7.3% compound annual growth rate (CAGR) is forecast for the industry over the next five years, resulting in a $5.7 billion market in 2019.
The strongest growth for nonwoven filter media will certainly be in the Asia-Pacific region. Nonwoven filter sales in the pharmaceutical manufacturing segment are expected to see especially rapid growth across most world regions. Purchases of filters in the HVAC sector are also rising worldwide, although not at quite as high of a rate. Another good growth market is in the filtration of waste streams from oil and gas production.
"In coming years, filtration will have a vital role to play in addressing the problem of diminishing oil and gas availability and, indeed, is already making a positive contribution to the hydraulic fracking industry that is promising to make the U.S. self-sufficient in energy by 2030. Added to this are the probable return of nuclear power in some parts of the world and the equally likely increase in the use of hydrogen as an energy carrier," says BCC Research analyst Adrian Wilson.
Nonwoven Filter Media: Technologies and Global Markets covers the technological, economic and business considerations of the nonwoven filter media industry with analyses and forecasts provided for global markets. Growth forecasts are given through 2019.
Editors and reporters who wish to speak with the analyst should contact Steven Cumming at steven.cumming(at)bccresearch(dot)com.
About BCC Research
BCC Research publishes market research reports that make organizations worldwide more profitable with intelligence that drives smart business decisions. These reports cover today's major industrial and technology sectors, including emerging markets. For more than 40 years we've helped customers identify new market opportunities with accurate and reliable data and insight, including market sizing, forecasting, industry overviews, and identification of significant trends and key market participants. We partner with analysts who are experts in specific areas of industry and technology, providing unbiased measurements and assessments of global markets. Recently selected as the world's greatest market research company, BCC Research is a unit of Eli Global, LLC. Visit our website at http://www.bccresearch.com. Contact us: (+1) 781-489-7301 (U.S. Eastern Time), or email information(at)bccresearch(dot)com.