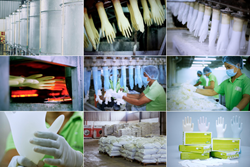 Biomax' President, Mr. Chong Wee Chong, said, "We have a three-month backlog of orders and are working hard to make two new production lines operational in the near future to fulfill future orders promptly."
Malaysia (PRWEB) January 28, 2015
Company News - Biomax Rubber Industries Ltd. ("Biomax" or the "Company"; Ticker: BIOX.BH), a manufacturer of medical/examination gloves in Malaysia, announces its new listing on the Frankfurt Stock Exchange Quotation Board ("FWB") under the ticker symbol "BRB". Renell Bank, a leading small-cap investment bank and FWB trading firm, will be the Company's market maker. The Company listed its shares on the Bermuda Stock Exchange on June 21st 2013.
"We want to thank Nasir Mogul of AFGlistings for getting our company listed in Bermuda and Frankfurt in an honest and transparent manner. We very much appreciate his efforts." Chong Wee Chong, President.
The Company manufactures and sells premium non-sterile latex medical/examination gloves and chlorinated powder-free gloves for the healthcare industry. Biomax's products are exported to more than 20 countries worldwide and the Company prides itself on a strong reputation of quality products, timely delivery and excellent customer service.
Due to an increased demand for High Quality Medical Examination Gloves, Biomax will be expanding and looking to add two new production lines and is also acquiring new space to increase its production capacity to meet increased demand for its medical examination gloves.
Biomax is also in the process of finalizing arrangements to produce its gloves through other manufacturers until the new production lines are operational, beginning as soon as suitable quality control measures are in place.
Biomax is also adding space to its manufacturing headquarters to establish a new quality control facility and warehouse facilities.
Mr. Chong said, "We have targeted a new location located at Mukim Kuala Selangor, Negeri Selangor, Malaysia, that is approximately 1.2141 Hectares (24.72 acres), and has a strategic location with easy access to fuel supply. We are conducting a preliminary study on the likelihood that local authorities will give approval of necessary manufacturing permits."
Biomax is in negotiations with a component manufacturer to form a joint venture for manufacturing Biomax' gloves that will further permit Biomax to realize additional manufacturing capacity.
To improve its interface with its Europe-based shareholders, on the 18th January 2015, Biomax has established an Investor Relations office in Istanbul, Turkey. The office is located at the World Trade Center, Yesilkoy Mah. Ataturk Cad., B1 Blok No 78, TR -34149 Bakirkoy/ISTANBUL, Turkey, tel. +90 212 936 03 04, fax +90 212 912 18 01.
Biomax' President, Mr. Chong Wee Chong, said, "We look forward to our prospectus for the Frankfurt Stock Exchange being approved by BaFin soon and want to be ready to respond to shareholders, analysts and the press during European business hours. Locating our investor relations office in Istanbul offers a cost-efficient, highly responsive solution that reduces delays arising from time differences between Europe and Malaysia."