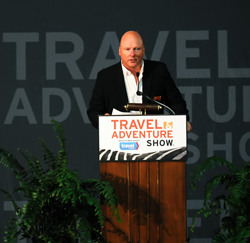 Consumers who attend our show leave with a level of confidence that their destination decision is the right one
New York, NY (PRWEB) January 23, 2015
While there is an overabundance of travel information available on the Internet, not all is what it seems and consumers are often left disappointed because reality is not depicted the same as the magnificent photos displayed before them on their computer screens. Enter the Travel & Adventure Show, which kicked off in Chicago on January 17th & 18th. A traveling show in its own right, this conference and expo gives consumers an opportunity to speak one-on-one with experts who know the difference between fantasy and reality. John Golicz, founder and CEO of the Travel & Adventure Show went one-on-one with ExpertFlyer to explain how travelers can secure the best airfares, hotels and property rentals, and commit to that dream vacation with a very high level of confidence.
For 12 years, the Travel & Adventure show has introduced more than 1 million consumers to travel experts and destination representatives to provide detailed tips for saving money and personal insight to properly research, plan, and book vacations and tours. This year's series of shows include stops in Chicago, the San Francisco/Bay Area, San Diego, Los Angeles, Washington, D.C., Philadelphia, and Dallas.
During his interview with ExpertFlyer, Mr. Golicz discussed the most trendy (and intriguing) vacation destinations, how and when to book an airline ticket, and why now is a great time to consider Europe as a destination. Golicz also looks at trends in hotel costs and offers insight to determine if a property rental through Airbnb is better than a traditional hotel. In the end, Golicz believes that one-on-one discussions with travel experts is trending higher as travelers continue to grow leery of the Internet and search for people to speak with about making the right decisions.
"Consumers who attend our show leave with a level of confidence that their destination decision is the right one," John Golicz explains. "Sometimes just getting confirmation on a destination is what they need but oftentimes they are looking for total guidance, from picking a destination to understanding what to do when they get there."
"The Internet offers a vast amount of information to help consumers get started with ideas for their next vacation or dream destination but they also need to learn how to 'interpret' what they see," explains Chris Lopinto, president and co-founder of ExpertFlyer.com. "The Travel & Adventure Show gives consumers a great resource to help them confirm what they think they know and provide them with personal insight and experience they can't necessarily get online."
To read the entire interview with Markus Ruediger, please visit ExpertFlyer's blog.
About the Travel & Adventure Show
For 12 years and nearly 60 shows, the Travel & Adventure Shows have become the largest and fastest growing travel shows in the United States. Since 2004, the Travel & Adventure Shows have helped 1 million travel enthusiasts find, plan and book their dream vacation. Our main focus is connecting travelers with travel providers. This is all we do, 365 days a year. And with over $2.2 billion in bookings, it's easy to see why the Travel & Adventure Show attracts the world's top travel brands and travel enthusiasts of the highest quality.
About ExpertFlyer.com
Each month, ExpertFlyer's One-on-One blog goes face-to-face with the travel industry's leading decision makers to discuss and address topics relevant to many of today's business and frequent travelers.
ExpertFlyer.com was conceived and created by an eclectic team consisting of a veteran elite tier frequent flyer, an airline captain and corporate travel manager, and information technology professionals to deliver a 24/7 real time powerful air travel information service. The company provides its subscribers and corporate travel managers alike with a complete, concise and efficient way to access the ever-changing details of worldwide air travel information. For more information, please visit expertflyer.com.
Stuck in the middle seat again? Download the free Seat Alerts app from ExpertFlyer and get the window or aisle seat without hassle or frustration.
# # #