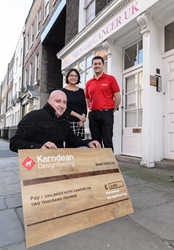 (PRWEB UK) 24 January 2015
The UK's market leader in luxury vinyl flooring, Karndean Designflooring, has donated £2000.00 to the leading national children's charity, Children with Cancer UK, as part of its 'Employee of the Year' award scheme.
Karndean Warehouse supervisor, Greg Zyszczyk, was nominated by fellow colleagues for the award, which included a cash donation to a charity of the winner's choice.
Launched 27 years ago by Eddie and Marion O'Gorman after the sad loss of their children Paul and Jean, Children with Cancer UK is dedicated to the fight against all childhood cancers.
Attending at the Charity's Head Office in Great Ormond Street, Greg and managing director Paul Barratt presented Nilly Sutton, senior corporate partnerships manager, with a giant cheque made out of Karndean's wood effect LVT flooring.
"Everyone wants children to survive cancer but many current treatments are harsh and intense," commented Nilly.
She said: "Side effects from years of treatment can be severe and children can be left with physical disabilities and long-term health conditions. We rely solely on donations to fund research to discover less toxic drugs and provide vital support for families affected by childhood cancer."
Greg chose the charity as he and his wife support a similar cause in Poland. "Children with Cancer UK was an easy choice for me," he said. "They do not get as much publicity as some other organisations and it felt only right that they should receive this contribution."
Paul Barratt, managing director at Karndean, said: "We are delighted to aid Children with Cancer UK in supporting families. Importantly, this money means that more children will have access to hospice care and special days out."
Karndean would like to thank Laserpoint Solutions Ltd, who created the presentation cheque free of charge for Children with Cancer UK.
For more information visit http://www.karndean.com.
http://www.childrenwithcancer.org.uk
Pic cap: (left to right)
Greg Zyszczyk, warehouse supervisor, Karndean Designflooring; Nilly Sutton, senior corporate partnerships manager, Children with Cancer UK; Paul Barratt, managing director, Karndean Designflooring
Ends (305 words)
For press enquiries and high res images, please contact Rachel Howard-Louvaine, PR Executive at Karndean Designflooring, email: rachel(dot)howard-louvaine(at)karndean(dot)co(dot)uk, Tel: 01386 820185, Mobile: 07808 772660.
Notes to editor:
About Karndean Designflooring
Karndean Designflooring is a global leader in flooring design with operations in the USA, UK, Australia and New Zealand. By offering a wide range of colours, textures and finishes, our products allow you to create looks that are unique to your home or business and are guaranteed to last. With a passion for creating floors which are both stylish and practical, we're here to help customers find the right floor for their space, needs and unique style.
For more information about the company, and to view its full range of flooring products, please visit: http://www.karndean.com, or follow us on our Facebook (http://www.facebook.com/KarndeanDesignflooring), Twitter Residential (http://www.twitter.com/KarndeanFloors) or Twitter Commercial (http://www.twitter.com/KarndeanComm).
About Children with Cancer UK
Children with Cancer UK is the leading national charity dedicated to the fight against all childhood cancers.
Research funded by Children with Cancer UK has helped to drive up survival rates for leukemia, the most common form of childhood cancer, to nearly 90%. Tragically, survival rates for some other forms of childhood cancer are very low and more research is needed to develop better treatments and improve outcomes.
As well as funding life-saving research, the charity also funds welfare projects including hospice care and family accommodation close to hospitals. The charity raises awareness of childhood cancer to protect more children and improve the lives of young cancer patients today and for future generations.
Where possible, please include the website for more information and donations:
childrenwithcancer.org.uk
Media enquiries: Caroline Hampden-White, Head of External Affairs, 020 7404 0808 or 07712 89 39 46 or chw(at)childrenwithcancer(dot)org(dot)uk