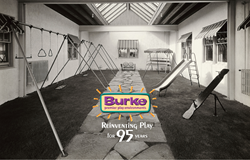 FOND DU LAC, Wisconsin (PRWEB) January 26, 2015
The new year marks a momentous company milestone for BCI Burke as they celebrate 95 years of designing, manufacturing and servicing exceptional playground, park and recreation products for children and families all over the world. Since its humble beginnings in the early 1920's, the company has grown to be a playground industry leader. BCI Burke commemorates this distinguished milestone with approximately 80 employees at the corporate headquarters in Fond du Lac, Wisconsin, and their professional network of domestic and international manufacturer's representatives.
J.E. Burke Company was started in 1920 as a weather stripping company by John Edward and Ethlyn Burke on the family farm in Fond du Lac, Wisconsin, where it still stands today. By the mid 1920's Burke became the first major playground manufacturer in the United States.
Through three generations of the Burke family, their successor, Tim Ahern and now President and CEO Mike Phelan, BCI Burke Company has and continues to stand by J.E. Burke's original commitment to superior quality, outstanding service and constant innovation. With each passing year, Burke's products continue to inspire imagination and challenge children while they play for generations to come.