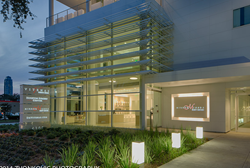 Houston, TX (PRWEB) January 27, 2015
Dr. Paul Vitenas, Jr., one of the top cosmetic surgeons in the Houston area, announced that his practice, Mirror Mirror Beauty Boutique, is now offering a new nonsurgical procedure to improve lax skin called Ulthera Lift.
The Ulthera Lift utilizes a process called Ultherapy, which targets the deep layers of facial tissues through the use of ultrasound technology. Ulthera works by tightening the skin in such areas as the chin, eyebrows, and neck. This procedure has proven far more beneficial than treatments that use radio frequency because the ultrasound waves are able to penetrate the skin more precisely and deeply.
According to Dr. Vitenas, Ulthera is a more affordable and less invasive alternative to a traditional facelift, as it corrects sagging skin and fine lines. Not only is an Ulthera Lift noninvasive with no incisions, but Dr. Vitenas' patients love the fact that the procedure is completed in his office and requires no anesthesia. Furthermore, he said the treatment takes between 30 minutes to a few hours to complete, depending on the areas treated. There is also no downtime following the procedure and patients can resume daily activities upon its completion.
Dr. Vitenas said the ideal patients for Ultherapy are men and women who are beginning to see early signs of aging such as wrinkles and sagging skin. Ideal candidates should also be in good health and have realistic expectations for the Ulthera procedure. They should also have a strong understanding of the procedure as well.
Ulthera has been recognized as an effective procedure that is very safe. Because there are no incisions or bleeding, there is no risk for infection, said Dr. Vitenas. Additionally, Dr. Vitenas explained that the most common side effects are mild bruising and tenderness, which typically go away in just a few days.
Dr. Vitenas has over 20 years of experience and is board certified by the American Board of Plastic Surgery. He graduated Tulane Medical School and is dedicated to helping all of his patients achieve their beauty goals. Dr. Vitenas has been recognized locally and nationally for his work having received such awards as being named one of America's Top Plastic Surgeons.
For more information, please contact:
Mirror Mirror Beauty Boutique
(281) 810-9083
4208 Richmond Ave, Suite 100
Houston, TX 77027
http://www.mirrormirrorhouston.com