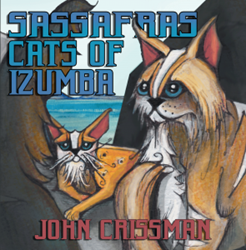 (The book) offers giggles and a gentle lesson about people being able to change.
BIRMINGHAM, Mich. –
(PRWEB) January 22, 2015 -- Unexpected invaders are never welcome, and that's especially true when those invaders are ill-mannered rats. The people of Izumba, stars of this new illustrated children's book, have heard stories about rats from their grandparents, including how their Sassafras Cats chased the rats to a neighboring country of Yogastan. Now the Rat Pack is back, and the residents of Izumba must figure out how to remove them once again.
The rats, which are the size of cats, must go because they are ruining picnics, taking kids' lunches, breaking into refrigerators for midnight snacks and watching the food network on people's TVs in this land far far away.
A plot by the rats to frame one of the infamous Sassafrass Cats works beautifully, and soon all of them are imprisoned. A call to the Pied Piper results in more frustration for Izumba's leaders, but an unexpected gift and a special weapon soon turns things around.
"Sassafrass Cats of Izumba" offers giggles and a gentle lesson about people being able to change. A glossary helps children learn new words, and dynamic illustrations by Stephanie Kent move the story along. This story was inspired by a Middle Eastern country's rat problem.
Author John Crissman is a single father who began using his love of community service and creative writing to write children's books, thanks to a suggestion from his 9-year-old son, Johnny. Some of the proceeds from the book will go to two nonprofit organizations. Reach Out and Read is a nonprofit group of medical provides who promote early literacy and school readiness in pediatric exam rooms nationwide by giving new books to children and advice to parents about the importance of reading aloud. Forgotten Harvest, which aims to relieve hunger in the Detroit metropolitan area, rescues surplus, prepared and perishable food, donating it to emergency food providers such as food pantries, soup kitchens, senior centers, group homes, and homeless and domestic shelters.
----------
For additional information, please visit http://www.sassafrascats.com
Sassafrass Cats of Izumba
John Crissman
Dog Ear Publishing
ISBN: 978-1-4575-2946-7 34 pages $9.95 US
Available at Ingram, Amazon.com, Barnes & Noble and fine bookstores everywhere.
About Dog Ear Publishing, LLC
Dog Ear Publishing offers completely customized self-publishing services for independent authors. We provide cost-effective, fast, and highly profitable services to publish and distribute independently published books. Our book publishing and distribution services reach worldwide. Dog Ear authors retain all rights and complete creative control throughout the entire self-publishing process. Self-publishing services are available globally at dogearpublishing.net and from our offices in Indianapolis.
Dog Ear Publishing – self-publishing that actually makes sense.