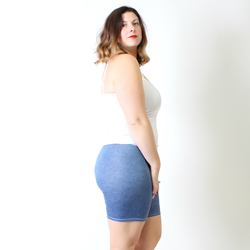 Our new spring colors offer something for everyone whether your style is classic, bold, or elegant.
Kingwood, TX (PRWEB) January 26, 2015
Undersummers by CarrieRae released three new Undersummers Shortlette Slip Short colors for spring, regular and plus sizes available. The new colors include Champagne Lace, Pink Snake Lace, and Denim Look Classic Shortlettes. Undersummers offers a Shortlette for every woman. Champagne is a soft and elegant color while Pink Snake is very bold. "I had to do something rodeo inspired for Houston, so I choose a great Denim Look Classic this year. It is ultra comfortable and perfect to wear under any skirt or dress." Carrie Adorna, founder of Undersummers by CarrieRae. These three colors add to the already wide variety of colors and prints available to regular and plus size women.
http://undersummers.com/pages/about-us: Rash Guard Panty Shorts, are a fun and comfortable solution to the age-old problem of chub rub. Undersummers Shortlette Slip Short Sets are comfortable rash guard panty shorts & camisoles to wear in place of a slip. They are not shape wear. Undersummers Shortlettes are made from Undersummers Signature Stay Cool(tm) fabric to make women comfortable in under dresses without bulky layers. The Shortlette Slip Short: rash guard panty short is uniquely designed with a seamless inner thigh and stay put leg. Sizes range from XS (0-2) to 4X (30). Undersummers by CarrieRae products are mindful that women deserve comfortable coverage everyday that is functional and fun to wear.
CarrieRae LLC & Undersummers by CarrieRae was founded by Carrie Adorna out of her own desire for a new, comfortable solution to chub rub. CarrieRae LLC is a small business in Houston, TX. All Undersummers by CarrieRae products are produced in the USA with the majority made in Houston, TX. CarrieRae LLC is dedicated to producing products that women need, want, and love.
Undersummers by CarrieRae is available online and various stores. Contact CarrieRae LLC for wholesale inquiries.