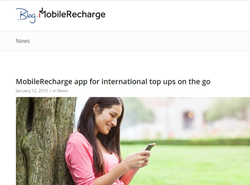 Fast delivery time. Used the service twice.. delivery was immediate... (Alicea James on Trustpilot)
Atlanta, Georgia (PRWEB) January 24, 2015
MobileRecharge.com, one of the leading providers of country-to-country mobile top ups, is happy to inform all expats worldwide about the existence of Blog.MobileRecharge.com, their active blog feeding weekly news. The platform launches weekly articles on different topics of interest to immigrants worldwide. From the get-go, the main purposes of the blog were:

to offer constant feed on promotions and top up possibilities on MobileRecharge.com
to develop a deeper relationship with their fans and expats worldwide
to contribute to the mobile or telecom industry by offering in-house information, plus data from their own research.
The blog addresses all ethnic groups with no exception and is available worldwide. Whether Africans, Latin Americans, Indians, Chinese or Thai, the blog addresses general topics or specific ones in turn, to satisfy as many groups as possible.
The blog entries provide diverse information on several interests:

best deals when making a recharge with MobileRecharge.com (from online account balance directly to a mobile in less than 1 minute)
long-distance gifts
useful apps and tools
changes and updates about the service, website or free MobileRecharge app
interesting immigrant data
cultural insights
curiosities
testimonials and customer stories
tutorials
Current or regular promotions make the topic of most articles. They sometimes announce different coupons or discuss Bonuses available on mobile credit transfers through MobileRecharge.com. The blog's section called "Offers" gives details about the advantages of a certain promotion, as well as tips on how to benefit from it at best. Such articles comprise also a glance over the terms and conditions of the specific campaign.
Blog.MobileRecharge.com is:

a rich source of information in order to stay tuned to solutions in the long-distance communication industry
a more detailed view upon promotions running every week
a source of information for specific solutions related to challenges an expat has to face
a general knowledge resource
Other ways to stay updated for coupons or expat-related news is to follow MobileRecharge.com on Facebook, Google+ or Twitter.
Blog articles are pragmatic, direct and honest, and consist of authentic useful news. The purpose is mostly informative, yet the intended side-effect is also to raise questions on different aspects of life or how we use certain apps and tools. The tone is friendly and the content 100% transparent, like the entire communication MobileRecharge.com is known for.
All information on blog.mobilerecharge.com is organized in 3 categories and a comprehensive Contact page:

The Contact page is available for 24/7 engagement by email, chat and social media channels. Anyone will get their answer or feedback immediately from the friendly Customer Service team.
What customers appreciate about MobileRecharge.com on review websites like Trustpilot and others is:

the easy way to send credit
the fast mobile credit transfer
the high security of transactions and privacy protection
the responsive customer service
Advantages of using MobileRecharge.com and visiting the blog:

Lowest price for international top ups, and best deals in terms of amount sent and price ratio
Instant processing
1 minute ordering time
All international credit/debit cards accepted regardless of card currency
PayPal accepted
Access from any Android or iOS device
Direct access to phone contacts in order to select the number to top up
Online access to orders and invoices
Daily Promotions
24/7 Customer Service by chat & email in English and Spanish
About MobileRecharge.com
MobileRecharge.com is an interactive website designed by KeepCalling, a global telecommunications company registered in 2002 in USA. From the get-go, MobileRecharge.com focused on creating an easy to use website and an easy to order service, succeeding to grow very fast. KeepCalling has been listed by Inc 5000 in top 20 telecom companies in the USA for the last 4 years. Plus, in 2014 the company was designated the 18th fastest growing company in the telecommunications industry in USA with a revenue increase of over 600% from 2010 to 2013.
MobileRecharge.com goes on facilitating the connection between families and friends living far away, through modern telecommunication solutions.