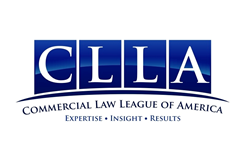 Chicago, IL (PRWEB) January 23, 2015
The Commercial Law League of America is pleased to announce that effective immediately, The Sanford Organization (TSO) will be taking over all management responsibility for the CLLA. TSO has been providing support and services to the CLLA and its staff since 2002. The CLLA Board of Governors has implemented this change effective immediately.
Barry Gammons, CLLA President said, "As the CLLA looks ahead to the future, it is important that we have a management company that shares our vision and direction. CLLA believes that TSO is that company and looks forward to a successful partnership."
TSO and existing CLLA staff will execute a transition plan over the coming weeks. Jeff Henderson, President of TSO and new Executive Vice President of the CLLA said, "We anticipate a smooth transition with no disruption to member services or upcoming events. We want the membership to know that TSO is familiar with the CLLA, understands its mission, and is prepared to lead the CLLA to achieve its strategic objectives."
The CLLA wants to recognize the achievements of Anthony Hilvers, and thanks him for his service to CLLA, as its Executive Vice President since November 2012. Mr. Hilvers will stay on staff through the transition.
In the coming days more announcements will be made concerning staffing changes, any changes in CLLA contact information, and other relevant communications.
Robert S. Bernstein, President-Elect of the CLLA, summarized the changes this way, "It's all about the future for the CLLA right now. We'll keep both hands on the wheel during this transition, and our eyes on the road that lies ahead. The CLLA has a bright future ahead of it, and with new leadership and continuing membership support, we will get there."
About CLLA –
The Commercial Law League of America ("CLLA") is a respected organization of attorneys and other experts in credit and finance actively engaged in the field of commercial law, bankruptcy and insolvency. Since 1895, The CLLA has been associated with the representation of creditor interests, while at the same time seeking fair, equitable and efficient administration of bankruptcy cases for all parties. CLLA's core purpose is to be the leader in providing legal, educational and professional services to the business and credit communities.
The CLLA is also a founding sponsor of the American Board of Certification (ABC), which is a non-profit organization dedicated to serving the public and improving the quality of the bankruptcy and creditor's rights law bars. The ABC has certified nearly 3,000 attorneys in consumer and business bankruptcy and creditors' rights law nationwide. All CLLA members are subject to the CLLA Operative Guides and the CLLA Constitution. Visit CLLA online at clla.org
About The Sanford Organization -
The Sanford Organization (TSO) is a fully accredited association management company dedicated to providing a full range of management services efficiently and effectively to meet our clients' goals and objectives. Located in Chicago's northwest suburbs, the 6,800-square-foot office is fully equipped to maximize efficiency and productivity. Established in 1975, The Sanford Organization is a fully-accredited, full-service association management company with 14+ employees who successfully and effectively manage all aspects of trade associations, professional societies, and trade shows. Choosing TSO over full-time staff or volunteers ensures value, professionalism, and committed leadership. Visit tso.net for more.