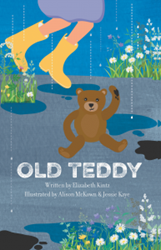 an old teddy bear reminds us that being loved is the greatest gift – far greater than being flawless or fancy.
ALEXANDRIA, Va. –
(PRWEB) January 22, 2015 -- An old teddy bear wonders whether newer toys will replace him, but Teddy's friend Giraffe reminds him how much he is loved by recalling the adventures that earned Teddy each of his rips and tears, relayed in this new children's book by Elizabeth Kintz.
"Old Teddy" tells the story of a little girl who gets many bright and shiny gifts on her birthday. Meanwhile, her familiar battered teddy bear wonders if he will be forgotten. Teddy's wise friend Giraffe reminds Teddy Bear that each of his rips and tears represents a wonderful adventure with Teddy's favorite little girl. Teddy loses a bit of tail during a sail just as he earns a stain from an afternoon jumping in mud puddles. At the end of the day, despite the glitzy new toys, the little girl takes Teddy to bed with her, reminding Teddy of how loved he is.
The story celebrates a child's unconditional love and real beauty – beauty that comes from within. Giraffe reminds Teddy that being shabby and ragged is beautiful; in fact, it's the best kind of beautiful because it means Teddy is the most loved and he is loved for who he really is – not because he is shiny or new.
The whimsical escapades in "Old Teddy" are chronicled in gentle rhymes and warm, digital illustrations by Alison McKown and Jessie Kaye. Young children will enjoy listening to the tale while holding their own special lovies.
Author Elizabeth Kintz, a former White House staffer and communications consultant, has written articles for trade magazines and for the Cape Cod Chronicle. She worked with former White House Press Secretary Ari Fleischer on his book, "Taking Heat," as a researcher. Kintz also wrote "The Magic Hose." She and her husband live in the Washington, D.C., area with their two children.
This is the second collaboration for Kintz with graphic designers McKown and Kaye. McKown and Kaye reside in Pittsburgh and Hoboken, N.J., respectively with their husbands and young sons. Learn more about their work at justaddconfetti.com and hijessiekaye.com.
----------
For additional information, please visit http://www.elizabethkintz.com
Old Teddy
Elizabeth Kintz
Dog Ear Publishing
ISBN: 978-1-4575-3465-2 24 pages $10 US
Available at Ingram, Amazon.com, Barnes & Noble and fine bookstores everywhere.
About Dog Ear Publishing, LLC
Dog Ear Publishing offers completely customized self-publishing services for independent authors. We provide cost-effective, fast, and highly profitable services to publish and distribute independently published books. Our book publishing and distribution services reach worldwide. Dog Ear authors retain all rights and complete creative control throughout the entire self-publishing process. Self-publishing services are available globally at dogearpublishing.net and from our offices in Indianapolis.
Dog Ear Publishing – self-publishing that actually makes sense.