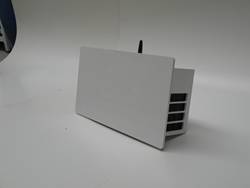 "By integrating the sense of smell in their communication campaigns, companies and organizations can easily and effectively boost satisfaction, elevate productivity and even increase revenues," said Pauline Resnick, CEO of Exhalia USA
SOLANA BEACH, Calif. (PRWEB) January 23, 2015
Exhalia, an interactive fragrance company headquartered in Dinard, France, has announced the opening of its United States office. Based in Southern California, Exhalia USA will bring revolutionary aroma experiences to American businesses and consumers.
"We are excited to launch Exhalia USA and bring Exhalia's novel products to the American market," said Pauline Resnick, Exhalia USA's chief executive officer. "By combining cutting-edge technology and a comprehensive range of services, we look forward to working with our partners to build or enhance their scent marketing programs."
A trendsetter in interactive fragrance solutions, highlights of Exhalia USA's products and services include:

A dry aroma diffusion method using fragrance-infused polymer beads, not liquid oils or solvents. This allows for dissemination of scents while eliminating residue left on surfaces and merchandise, reducing permeation into fabrics and ensuring that there will be no messy, hard-to-clean spills and leakages.
Cloud-based management technology that allows clients to remotely modify the intensity, duration and timing of fragrance distribution using their computers, tablets or smartphones, giving them complete control of their scented environments.
"Olfactory chain" integration that enables Exhalia USA to work with clients from scent design to product development and distribution, ensuring a smooth customer service experience throughout the process.
"As you need it" cartridge refill program that has no monthly/yearly minimum requirements, to meet clients' flexible needs and to help minimize waste.
"While the scent marketing industry has developed significantly all over the world, it is still relatively stagnant in the United States. This created the perfect opportunity for us to introduce our innovative products to the American market," said Yvan Regeard, president of Exhalia. "By combining dry diffusion technology with cloud-based management, we strive to create a customizable and superior aroma experience for our clients and partners."
Featured products available from Exhalia USA include:
The uScent system that can create scented atmospheres of up to 900 square feet, with capability of building multiple scent zones of different fragrances.
The touch-activated uBox that allows consumers to sample product fragrances at points of sale without opening merchandise.
The iSampler, a USB key that releases fragrance upon being plugged in and can be integrated with other multimedia features.
Because of interactive fragrances' versatile applicability, Resnick sees great partnership potential between Exhalia USA and numerous industries for their marketing, customer engagement and brand building programs.
"Numerous studies have shown that aromas can have a powerful impact on human decisions and behaviors; by integrating the sense of smell in their communication campaigns, companies and organizations can easily and effectively boost satisfaction, elevate productivity and even increase revenues," Resnick said. "My team and I look forward to working with these organizations to strategically plan, design and implement a scent marketing program that will meet — and even exceed — their goals."
To learn more about Exhalia USA, visit its website at http://www.exhaliausa.com/.
About Exhalia USA
Exhalia USA provides a wide range of technology-driven, scent-focused solutions for marketing, communications, customer engagement and brand development programs. Approaching the scent marketing arena holistically, we offer an evidence-based solution on aromas and how they impact people where they work, shop and live. Going far beyond brand positioning, Exhalia USA uses the science of scents to improve people's lives and performance towards strategic goals.
Exhalia USA is the United States subsidiary of Exhalia, which was founded in 2004 and is headquartered in Dinard, France. Exhalia's current and past partners have included Unilever, L'Oreal, Johnson & Johnson, Yves Saint Laurent, Nestle and Rémy Martin. For more information, visit http://www.exhaliausa.com/.
# # #