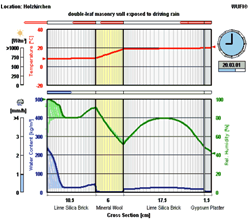 New York City (PRWEB) January 22, 2015
WUFI software has been proven to be an essential tool in designing high-performance buildings. Named for a German abbreviation meaning "heat and humidity transference," WUFI simulations help to understand relative risk levels of different building assembly configurations under a variety of climatic conditions. This results in greater assurance of long-term durability and safety.
As with any design tool, proper usage is critical to finding results that are meaningful and helpful. The phrase "garbage in, garbage out" is a common one in the engineering world. A thorough understanding of the limits and capabilities of the simulations is essential for those using WUFI. As co-creator of the software, there is no better or more qualified trainer than Manfred Kehrer, a building science specialist working as R&D staff for Oak Ridge National Laboratory in the US, and Manager of Software Development for Fraunhofer IBP in Germany.
Kehrer is partnering with 475 High Performance Building Supply, a company specializing in knowledge and components for Passive House and high performance buildings, to bring expert training to New York on March 13. WUFI Pro Certified Trainer and 475 co-founder, Floris Keverling Buisman, who will assist in the training, urged those interested to "take advantage of this opportunity to deepen understanding of moisture and vapor analysis. WUFI is a cutting edge building science tool, and there is no one better suited to guide you than Manfred."
WUFI has been proven through comparative field tests on real buildings, ensuring that simulations correspond to real-world results. In addition to heat and moisture movement, WUFI can also realistically display the moisture content within individual component layers. Building professionals benefit from WUFI's reliable analyses of the safety margins of constructions. Risk of moisture-related damage rises along with insulation levels and material choice. Users can easily select and exchange individual component layers within the software to compare the change of heat and moisture flows.
Kehrer and Keverling Buisman plan to lead attendees through modern and revolutionary new building envelope design concepts, show the deleterious effects of moisture, and explain methods for reducing risk. The day-long course will end with a question and answer session allowing the group to interact and receive one-on-one guidance.
For more information, or to register for the course, visit the 475 event page. Registration includes an 8 week license for WUFI Pro 5.3. Class size will be limited to ensure each participant has a high quality experience, leading organizers urge building professionals not to hesitate.