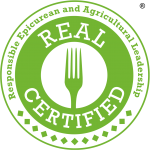 "We're honored to be REAL Certified because it aligns so strongly with the commitments to transparency, health, and sustainability that guide our hand every day in creating great tasting, good-for-you food for our customers," said COO Jeff Kelley
Alexandria, VA (PRWEB) January 22, 2015
Power Supply announced today that it is the first prepared meal company to become REAL Certified by the United States Healthful Food Council (USHFC). Power Supply utilizes a network of independent chefs who craft locally made, responsibly sourced, and freshly prepared meals for busy, active people. REAL Certified, or Responsible Epicurean and Agricultural Leadership, is the emerging national standard for foodservice operations committed to holistic nutrition and environmental stewardship. Power Supply can now bring food from chefs who follow REAL Certified practices to customers in DC, Maryland and Virginia through 90 pickup locations and a new home or office delivery option.
"We're honored to be REAL Certified because it aligns so strongly with the commitments to transparency, health, and sustainability that guide our hand every day in creating great tasting, good-for-you food for our customers," said Power Supply Chief Operating Officer Jeff Kelley. "REAL Certified clearly and objectively communicates these values to our customers and to the independent local chefs crafting meals in our network now and in the future."
REAL Certified is a holistic nutrition and sustainability certification program for the foodservice industry developed by the USHFC and modeled after the LEED green building certification program. The REAL certification process requires a voluntary audit whereby a USHFC credentialed registered dietitian (RD) reviews menus, ingredients, preparation methods and sourcing. It awards points based on a wide range of criteria such as: the use of nutrient-dense vegetables, fruits and whole grains; scratch cooking and minimally processed foods; healthier cooking methods and moderate portion size; unsweetened beverage and healthy children's options; and more sustainable sourcing methods such as local and organic. Those that satisfy the necessary requirements are awarded and recognized as REAL Certified.
"The prepared meal industry is growing rapidly to create innovative options for conscious eaters. It's important that consumers have a way to distinguish those that are taking nutrition and sustainability seriously," said USHFC CEO Lawrence Williams. "Power Supply is clearly a leader in this emerging sector and we're happy to support them as they expand and bring REAL Certified practices to their network of chefs."
As part of Power Supply's commitment to health and sustainability, its chef onboarding program requires future chefs who join the network to be versed and trained on the values of REAL Certified.
About Power Supply
Power Supply helps busy, active people eat and live better by connecting them with a network of talented local chefs who craft freshly prepared, table-ready meals with tons of care and flavor, but no gluten or dairy. Customers order online each week (3 and 5 day plans for meat eaters and vegetarians alike), the local food makers in Power Supply's chef network prepare good-for-you, great tasting meals, and Power Supply delivers them each week to a network of 90 pickup locations (gyms, yoga studies, wellness centers) and directly to homes and offices in DC, Maryland and Virginia. For more on Power Supply, please go to dc.mypowersupply.com. Follow them on Facebook, Twitter and Instagram. Check out the Power Supply Small but Mighty cookbook.
About the United States Healthful Food Council (USHFC)
Established in 2011, the USHFC is a 501(c)3 registered nonprofit dedicated to fighting diet-related disease by realigning the food industry's incentives with consumers' health interests. The USHFC works towards its mission through the REAL Certified holistic nutrition and sustainability certification program. REAL Certified foodservice operators must satisfy prerequisites and earn sufficient points in the areas of Responsible (nutrition), Epicurean (preparation), Agricultural (sourcing) and Leadership (going above and beyond). The organization has received financial support from the Tennessee Department of Health, the Park Foundation and the Robert Wood Johnson Foundation President's Grant Fund of the Princeton Area Community Foundation. More information can be found at USHFC.org and REALCertified.org.