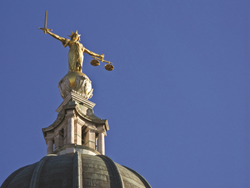 "The courts are posh: everyone in wigs; everyone talks in this funky language."
(PRWEB UK) 23 January 2015
Research conducted by the Institute for Criminal Policy Research (ICPR) at Birkbeck, University of London has found that appearing in the Crown Court – as a victim, witness or defendant - is often frightening, frustrating and upsetting for participants.
The findings – published today in a new book that delves into the arena in which the country's most serious criminal offences are trialled – provide a unique insight into the court process, with some painting it as an often chaotic and confusing scene. It is also a process characterised by incongruity: extravagant formality is mixed with informality; the most intimate and sordid details of individuals' lives are publicly recounted in elaborate fashion; matters of utmost gravity are discussed alongside trivialities; and grief and (black) humour coincide.
And yet, despite the immense contradictions and difficulties of the court experience, and the conflict and hostility at the heart of most court cases, the vast majority of victims, witnesses and defendants are highly compliant in the courtroom. They arrive when told to do so (albeit sometimes late); they sit or stand as instructed; they answer the questions posed to them and in the required manner; and they conduct themselves according to the social rules of the courtroom. This 'reluctant conformity' of court users appears to reflect an implicit belief in the legitimacy of the court process and the decisions reached in court.
The study provides a vivid description of what it is like to attend Crown Court, be it as a victim, defendant, witness, member of staff, judge or barrister. It outlines the interplay between the various participants and the extent to which the court process is viewed as legitimate by those involved in it. It also shows how bewildering court proceedings can be and describes their character of 'structured mayhem'.
Alongside this, the book discusses how the trial process constructs a version of the 'truth' of events that often bears little resemblance to what was actually experienced by any of the individuals involved.
Dr Jessica Jacobson, Co-Director of the Institute for Criminal Policy Research and lead author of Inside Crown Court, said: "Our book describes the realities of the courtroom experience. It addresses issues that are of profound public concern, such as the trauma faced by some victims when giving evidence, as highlighted by recent high profile trials concerning alleged sexual offences. Importantly, this study also helps show ways in which the difficulties and stresses associated with appearing in court are eased, and points to what further efforts can be made done to enhance support for court users."
Penny Cooper, Professor of Law at Kingston University and co-founder and Chair of The Advocate's Gateway, said: "This book provides a unique window on what is really going on in court, dispels myths, chronicles what is changing and shows what still needs to change. I commend the book to students, lawyers and policy-makers."
Notes to editors
1. The Institute for Criminal Policy Research (ICPR), which is based in the School of Law of Birkbeck, University of London, carries out multidisciplinary research into all aspects of the criminal justice system. The audiences for ICPR's work include academics, criminal justice professionals, politicians and their advisors, and the general public. For more information on ICPR, go to http://icpr.org.uk/.
2. Inside Crown Court: Personal experiences and questions of legitimacy, by Jessica Jacobson, Gillian Hunter and Amy Kirby (from the Institute for Criminal Policy Research, Birkbeck, University of London), is published by Policy Press.
3. Inside Crown Court (ISBN 9781447317050) is available from: http://www.policypress.co.uk/display.asp?K=9781447317050
4. The study on which the book is based was funded by the Economic and Social Research Council.
5. The empirical research was conducted in 2011/12 and focused on two Crown Courts. It involved in-depth interviews and 200 hours of observation of a variety of Crown Court hearings.
6. Some extracts from the book are available on request. Please contact David Leslie (020 7380 3108 , d.leslie(at)bbk(dot)ac.uk) or Jessica Jacobson on 07720 781665.