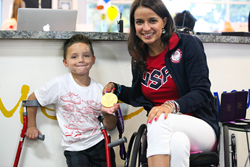 The instant we walked in the doors I knew Project Walk was special.
Stratham, NH (PRWEB) January 22, 2015
Project Walk Paralysis Recovery Center will celebrate the grand opening of its sixth franchised location Saturday, January 24 from 1 p.m. – 4 p.m.
The newest Project Walk location will begin seeing clients January 19 at 20 Portsmouth Ave. Stratham, NH which is just north of Boston. Franchise owners, Larry and Jacqueline Arlen were first moved to bring a Project Walk to their hometown when their daughter, Victoria attended the San Diego location.
Victoria, suffers from Transverse Myelitis; a rare neurological disorder that affects the spinal cord which often results in partial to full paralysis.
"The instant we walked in the doors I knew Project Walk was special. We were so moved by everyone around us and how many people needed Project Walk that we felt we had to bring one back to the East Coast," says Jacqueline Arlen.
Project Walk is the pioneer in activity-based recovery with nearly two decades of experience helping people with all types of disabilities improve their quality of life. Based on The Dardzinski Method™, Project Walk has established itself as the global leader in activity-based recovery through its scientific approach to improving function below the level of injury.
"Our mission at Project Walk is to help as many people as possible who suffer from a disability have a chance at an improved quality of life through our world-class recovery services," says Tim Yates, Project Walk Chief Executive Officer. "The instant I met the Arlen family I knew they understood my passion to help others." Yates adds, "When they expressed interest to bring Project Walk to the East Coast I felt blessed to have such an amazing family to partner with."
Project Walk – Boston will host the Grand Opening on Saturday, January 24 with their daughter as a distinguished speaker. Victoria represented Team USA at the 2012 Paralympic games in London where she took home a gold and three silver medals in swimming. Victoria is also a natural ambassador for the Project Walk brand as she is a motivational speaker, encouraging others to "rock their disability" and to "believe in their best self."
"We are very excited to see this dream come to fruition with the opening of Project Walk and I'm excited about the miracles we hope to create in the very near future," says Jacqueline.
For more information on Project Walk – Boston and their current program options, please visit http://www.ProjectWalk.com/Boston or contact Jacqueline Arlen at (508) 938-9255.