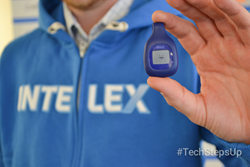 The Tech Fitness Challenge is a great way to encourage fitness and camaraderie while creating awareness and contributing to worthy causes within the community
TORONTO (PRWEB) January 22, 2015
Toronto-based tech company, Intelex Technologies, is issuing a challenge to its industry peers to get fit and give back.
Participants in the Tech Fitness Challenge will be using fitbits, activity trackers that log daily steps and track them on-line, to determine which company can average the most steps per person, per month.
Each tech company is competing for their charity of choice and also bragging rights. Every month a winner will be determined, and all other competitors will make a charitable donation to the winner's selected charity.
Awareness of the importance of employee health & wellness and corporate programs to support such activities has received an increasing amount of attention within recent years. Intelex believes in the importance of such initiatives and its ability to foster a positive and productive corporate culture.
Last June, Intelex began an internal fitbit program with the goal of walking to the moon and back in one year. That is a total of 955,428,000 steps (2,388,570,000 feet or 452,380 miles). The intent of this program is to encourage fitness and create fun within the organization by working towards a common goal. The program has been a phenomenal success generating collective excitement and employee engagement. Extending this activity to other organizations, by way of a healthy corporate challenge, is a natural extension of the program.
"The tech community is very competitive by nature, yet we are also conscious of our community and giving back," says Mark Jaine, President and CEO of Intelex. "The team at Intelex is looking forward to some healthy competition and raising money for the Daily Bread Food Bank."
The Tech Fitness Challenge is set to begin February 1st. The current list of competitors are as follows:

Shoplogix
PointClickCare
360 Incentives
Accelerated Connections
Intelex Technologies
"The Tech Fitness Challenge is a great way to encourage fitness and camaraderie while creating awareness and contributing to worthy causes within the community," says Jaine. "I look forward to the competition and seeing how each company steps up."
Follow this on Twitter #TechStepsUp
-30-
About Intelex: With more than 1000 clients and one million users, Intelex Technologies Inc. is a global leader in Environmental, Health, Safety (EHS) and Quality management software. Since 1992 its scalable, web-based platform and applications have helped clients across all industries improve business performance, mitigate organization-wide risk, and ensure sustained compliance with internationally accepted standards (e.g. ISO 9001, ISO 14001 and OHSAS 18001) and regulatory requirements. Intelex is one of Canada's most highly awarded and fastest-growing tech companies and has been named one of Canada's Most Admired Corporate Culture, Best Managed Companies in Canada, one of the fastest growing companies in PROFIT Magazine, as well as one of the country's top employers by Aon Hewitt and Best Small and Medium Employers. For more information, visit http://www.intelex.com