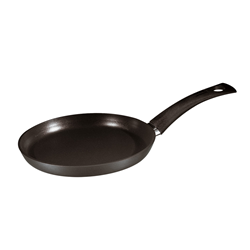 Lima, Ohio (PRWEB) January 23, 2015
Berndes Cookware offers expertise and quality when it comes to cookware. Quality makes the difference with Berndes Cookware and the unique cookware lines within Berndes are focused on facilitating fat-free cooking. The Berndes Crepe Pan is constructed with a heavy gauge spun and drawn aluminum with a three layer non-stick coating designed for low-fat cooking. Fat-free cooking can be achieved without the addition or very little use of oil, fat or sprays. The three layer non-stick coating allows the Crepe Pan to be exceptionally easy to clean.
The European design and styling of the Crepe Pan shows a distinctive flared phenolic handle. The 9.5 inch Crepe Pan is the perfect size and convenience for flipping crepes; in order to cook a crepe properly the batter must be spread quickly and evenly. Berndes Cookware offers a handy tool known as the Crepe Spreader. Three different Crepe Spreader options are available; one large individual Crepe Spreader, one large and one small Crepe Spreader or a four pack of two large and two small Crepe Spreaders.
For more information please go to http://www.berndes-cookware.com.
About Berndes
Berndes has developed produced and distributed cookware since 1921 and is the largest pan manufacturer in Germany, as well as the world-marketing leader in nonstick coating cookware made of cast aluminum. The high quality, award-winning range made of cast aluminum, spun aluminum and stainless steel is exported worldwide and has been distributed through qualified channels for decades.
With a marketing strategy that focuses on people with an affinity for cooking and appeals to the emotions, Berndes is set for success. As has always been the case, production is carried out at the company headquarters in Arnsberg, Germany. These processes only use materials that do not affect the environment, resources or health. The in-house test laboratory conducts continual quality controls accompanying production. Neutral test institutions both attest the company's high quality standards repeatedly domestically and abroad.