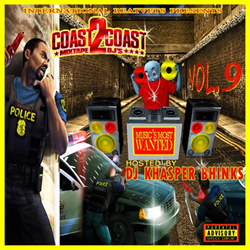 Indianapolis, IN (PRWEB) January 22, 2015
Coast 2 Coast Mixtapes presents the release of the "Music's Most Wanted Volume 9" mixtape by DJ Khasper Bhinks. This 21 track project is currently available for streaming and download on the Coast 2 Coast Mixtapes website.
Dj Khasper Bhinks is a full time Dj, that produces, mixes and promotes. He has been an active Dj since 1998 and has worked with hundreds of Independent Artists worldwide. Dj Khasper Bhinks is based out of Indianapolis, IN but he books parties, as well as collaborates with "Serious Artists" from all over the world. Dj Khasper Bhinks is also recognized as a Registered Trademark by the United States Patent and Trademark Office. Remember his team is available 24 - hours around the clock today.
"Music's Most Wanted" Volume 9 is a unique collaboration of several hard working Artists worldwide showcasing their talent. Each Artist offers a different sound which allows for their music to be sure please a substantial variety of ears.
Fully Collaborating Artists include; ForcerMan, TKO, FDAMusic, Donn Jones, TimsWhenItsWarm, Split Seed Ent, Rave, Cooly Kidd, DeeBoi, New Money, Big Daddy Earl, Carolina Blacc, Flyboi Peeples, Cliffy Savage, Mic Pye, Eddie Jayy, Vito Lays, Lord Reign, Wax'a'Don, King Lon Da Great, D.Focis, and SmokeBands.
This project involves talent from areas around the world such as Saudi Arabia, California, Georgia, Illinois, Maryland, Michigan, Mississippi, New Jersey, Nevada, New York, North Carolina, Ohio, South Carolina, Tennessee, Texas, Wisconsin, and more.
Keep up to date with Dj Khasper Bhinks via Twitter at: @DjKhasperBhinks
About Coast 2 Coast Mixtapes
Coast 2 Coast Mixtapes are the most widely distributed mixtapes in the world, with over 100 million downloads/plays generated by over 200 volumes officially hosted by major artists. Coast 2 Coast has a solid reach in the new music industry with a digital magazine, DJ coalition, industry tips blog, yearly convention, and more. Coast 2 Coast Mixtapes represents a unique opportunity for artists of all urban genres, from major to indie. For more information, visit http://www.coast2coastmixtapes.com.