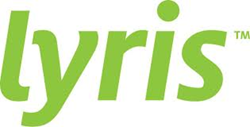 (PRWEB) January 22, 2015
Lyris, a global provider of digital marketing solutions, today announced it was named a finalist in the Customer Service Department of the Year – Computer Software category in the ninth annual Stevie® Awards for Sales & Customer Service, and will receive a Gold, Silver, or Bronze Stevie Award recognition in the program. Lyris received Silver in last year's awards.
"With more than 20 years experience in digital marketing, our business continues to grow because we care about how people connect; this emphasis on human connections extends to how our internal teams interact with customers," said Debbie Baldwin, director, Global Customer Support at Lyris. "We are thrilled that the Stevie Awards continue to recognize our hard work and look forward to continuing to deliver value to our customers."
More than 1,900 nominations from organizations of all sizes and in virtually every industry were evaluated in this year's competition, an increase of 27 percent over 2014. Finalists were determined by the average scores of 139 professionals worldwide, acting as preliminary judges.
Aiming to deliver the best customer support possible, Lyris provides value to customers in four key areas: Building trust and partnerships; being proactive in communication; educating through shared knowledge; and, being responsive in resolving issues. According to customer satisfaction surveys conducted annually, Lyris continues to raise the bar in offering best-in-class customer support.
In addition to being named a finalist in this category, Lyris is a finalist in this year's People's Choice Stevie Awards for Favorite Customer Service. http://bit.ly/15vJmiE
More than 100 members of several specialized judging committees will determine the Gold, Silver and Bronze Stevie Award placements from among the Finalists during final judging, to take place January 26 - February 4.
Details about the Stevie Awards for Sales & Customer Service and the list of Finalists in all categories are available at http://www.StevieAwards.com/Sales.
About Lyris
With over 20 years experience, Lyris is a global leader of innovative email and digital marketing solutions that help companies reach customers at scale and create personalized value at every touch point. Lyris' products and services empower marketers to design, automate, and optimize experiences that facilitate superior engagement, increase conversions, and deliver measurable business value. The Lyris solutions portfolio is uniquely comprised of award- winning messaging automation software, digital marketing strategy and deliverability services, and a componentized and flexible integration framework that revolutionizes the way marketers can extend digital messaging across the enterprise. More than 5,000 companies worldwide partner with Lyris to manage connected customer communications.
About The Stevie Awards
The Stevie Awards are conferred in six programs: The American Business Awards, the German Stevie Awards, The International Business Awards, the Stevie Awards for Women in Business, the Stevie Awards for Sales & Customer Service, and the Asia-Pacific Stevie Awards. Honoring organizations of all types and sizes and the people behind them, the Stevies recognize outstanding performances in the workplace worldwide. Learn more about the Stevie Awards at http://www.StevieAwards.com, and follow the Stevie Awards on Twitter @TheStevieAwards.