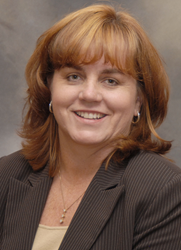 Philadelphia, PA (PRWEB) January 22, 2015
The PFM Group, the nation's leading provider of independent financial and investment advisory services to state and local governments and not-for-profit institutions, announced today that three senior professionals have been promoted to Managing Directors of the firm. PFM CEO John H. Bonow joined PFM's other Managing Directors in welcoming the promotions of Kari L. Blanchett, Matthew Eisel, CFA, and Laura Franke.
Ms. Blanchett represents Public Financial Management, Inc. as a Financial Advisor serving schools, higher education institutions, and municipal government clients across Michigan and the upper Midwest and is based in the firm's Ann Arbor office; Mr. Eisel works in Harrisburg and heads PFM Asset Management's Structured Products Group; and Ms. Franke leads the firm's rapidly growing national Environmental Finance and Green Energy practice and is based in PFM's Los Angeles office.
"These are individuals who, through outstanding client service and the highest professional standards, have helped PFM grow and maintain our role as the nation's premier independent financial advisory and investment management firm," Mr. Bonow noted. "They have proven that by focusing on serving our clients' interests, PFM can continue to earn their trust and enable us to sustain our leadership position in the industry," he added.
Kari L. Blanchett joined PFM in 2004 and has built the firm's Financial Advisory business in Michigan, focusing initially on local governments and school districts. Working from the school district base, Kari has broadened PFM's Michigan footprint to include counties, higher education institutions, authorities and cities. She has also been a valuable team member by involving other PFM subject matter experts when developing solutions to address significant client challenges. This teamwork was dramatically evident in PFM's service to Oakland County as part of the Detroit bankruptcy proceedings. Ms. Blanchett has a strong reputation among clients for her in-depth knowledge and experience in Michigan and among colleagues for her inclusive attitude and her strategic vision.
Matthew Eisel, CFA, has been with PFM for his entire career, spanning more than 10 years. He leads the Structured Products Group within PFM Asset Management LLC. Matt has leveraged his industry-leading technical skills with his ability to consistently develop and deliver creative solutions for PFM's clientele into a position of leadership within the Structured Products industry. Additionally, Matt has spent considerable time recruiting, training and developing his staff and is a respected manager across PFM. He has demonstrated both through his words and actions that he understands, internalizes and seeks to impart to others the collaborative culture of PFM. His dedication and passion for his work and for providing the highest level of service and value to clients is recognized by colleagues and clients alike.
Laura Franke has helped to shape and lead the firm's innovative Environmental Finance and Green Energy practice, focused on helping clients finance non-polluting sources of energy production as well as improvements that reduce consumption of natural resources. She is passionate about the environmental finance business and has fostered its growth and success at PFM. Laura was able to take what was a California initiative and bring it to serve clients throughout the country. She has also been active in educating numerous clients and prospects in states with aggressive renewable energy and energy conservation financing programs. Laura is respected throughout the industry for her entrepreneurial spirit and bringing this new and important vision to municipal finance.
For almost four decades, the companies of the PFM Group have built a solid presence in the municipal and not-for-profit marketplace. The PFM Group includes Public Financial Management, Inc.,(PFM) the top-ranked municipal advisory firm in the nation for the past seventeen years according to Thomson Reuters, providing independent financial advisory services to a broad base of local, state, and regional government and non-profit clients throughout the United States. PFM is a registered municipal advisor with the SEC and the MSRB under the Dodd-Frank Act of 2010.
PFM Asset Management LLC (PFMAM), also part of the PFM Group of companies, is registered with the Securities and Exchange Commission under the Investment Advisers Act of 1940 and offers a strong history of thoughtful innovation coupled with an abiding dedication to protecting client capital. The PFM Group of companies also provides investment consulting services, best practices management and budget consulting, and pension advisory consulting services to pension funds and similar institutional investors. The PFM Group currently employs more than 500 professionals serving a broad base of clients from offices located in every region of the country.
FOR LOCAL USE:
Ms. Blanchett is a native of Southgate, MI and has lived in Monroe, MI for the past 20+ years
Mr. Eisel is a native of Easton, PA and resides in the Harrisburg area.
Ms. Franke was born and raised in the Seattle, WA area and has lived in Los Angeles for the past 25 years.
PHOTOS AVAILABLE UPON REQUEST. EMAIL sosinskis(at)pfm(dot)com