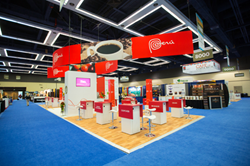 Absolute Exhibits services over 350 clients a year at 200 trade shows. Specialty Coffee is in a class by itself. For the fourth time in the past ten years we are building exhibits in the "home of coffee."
Tustin, CA (PRWEB) January 23, 2015
Beginning Thursday April 9th and running through Sunday January 26, 2014, 10,000+ visitors, attendees and exhibitors will flood Seattle for the Specialty Coffee Association of America (SCAA). Starbucks will return as the Official Host Sponsor of the 27th Annual Exposition, "The Event," with Ethiopia as the 2015 Official Portrait Country Sponsor. The SCAA is a non-profit trade organization and the world recognized leader in coffee knowledge development. With over 12,000 members located in more than 40 countries, SCAA members represent every segment of the specialty coffee industry. The SCAA has been dedicated to creating a vital specialty coffee community that develops and promotes specialty coffee by setting and maintaining quality standards for the industry.
As an trade show display builder Absolute Exhibits will once again be fabricating everything from custom exhibits rentals to system exhibit rentals for clients from the United States and around the world. For the previous four years Absolute Exhibits has partnered with the host country to build their exhibit and arrange events including this past year with singers, dancers, and photography and videos. Country exhibits executed by Absolute Exhibits include Peru, Honduras, Brazil, Spain, Colombia, El Salvador, Panama, Ecuador, and Bolivia.
Absolute Exhibits services over 350 clients a year at 200 trade shows. Specialty Coffee is in a class by itself. For the fourth time in the past ten years we are building exhibits in the "home of coffee." The Seattle venue makes this a truly exciting time in the coffee world along with the coffee house tour and the World Barista Championship Party this is one show not to miss.
About Absolute Exhibits:
Absolute Exhibits, established in 2000, rents and sells large custom exhibits at over 300 shows in the USA and in countries around the world. Absolute Exhibits is dedicated to providing distinctive marketing settings as well as pre-and-post show and, event marketing and support services for our clients. At Absolute Exhibits every aspect of the exhibition project is handled using in-house resources and every question is answered in-house as well. Absolute Exhibits is a true one-source exhibit house.