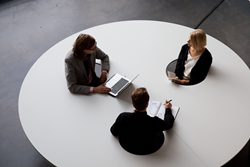 We've met hundreds of business owners and individuals who are excited to use our services!
Miami, FL (PRWEB) January 23, 2015
Wrapping up the national tour at the Miami Beach Convention Center with the Small Business Expo, LiveRes is already preparing for their next step. In the next few months roll out their new plans incorporating new plans for veterans and military personnel and will be visiting over a dozen colleges by spending the day showing the students how they can benefit from using the site in preparation for the job market they will face when they graduate.
LiveRes is a 100% free website that is changing the way Job Seekers and Employers connect by matching only qualified applicant profiles with available positions based on employer-provided criteria and then placing those profiles directly in front of hiring managers to view.
By providing job seekers with the tools they need to create and upload resumes, and video resumes ,the opportunity for self promotion in their respective job fields is enhanced because LiveRes provides everyone with a public board that can be customized with pictures, videos and posts to help and shared online or through sending invitations to view their board.
As social media continues to change how companies and businesses stay in touch, so does the development process for LiveRes.
Some new website features include:
> International users now have the ability to select city and countries when completing their profile.
> Option to enable or disable Public Board for viewing.
Individuals who are currently working can keep their current employer anonymous of their profile on LiveRes, allowing themselves the opportunity to be noticed by other companies that may be out there looking for someone just like them. Business that are looking for qualified and experienced individuals can now have access to the some of the best of the best people in their respected fields and industries. People who may be looking for a better opportunity who can help businesses reach their goals a lot faster than expected. "We've met hundreds of business owners and individuals who are excited to use our services, and our continued growth has been amazing," says Douglas Cochrane (Co-Founder/Managing Member).
Whether your and individual or a business, let LiveRes help opportunities find you. It's fast, it's easy & it's free!
To find out how LiveRes can help connect you and your future, visit: http://www.live-resume.com; and to learn how to become an investor, contact: admin (at) live-resume (dot) com.