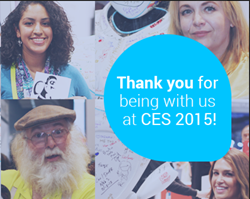 Our goal is to make our users' digital lives easier and give them the affordable live support and the tools they need to secure and manage their data at any time day or night
Las Vegas, Nevada (PRWEB) January 26, 2015
Software developer and support service provider MacKeeper announces their participation at the International CES 2015, one of the world's biggest consumer electronics and consumer technology trade show. This year CES has broken all previous attendance records with over 170,000 visitors, vendors, and industry professionals from around the world. The event stretched across multiple venues including the Las Vegas Convention Center, Mandalay Bay, Sand Convention Center, and Tech East, Tech West and C Space at ARIA.
MacKeeper attended the event as a vendor and to promote their new human assistance service. The International CES is hailed as the most important event of the year for technology services that will solve world problems and improve lives. Saving time and solving problems is the primary focus of the new MacKeeper service that combines a software bundle of useful applications with live human support.
"Our goal is to make our users' digital lives easier and give them the affordable live support and the tools they need to secure and manage their data at any time day or night. We were the official sponsor of the MacWorld | iWorld event for the last several years and wanted to expand our reach and the 2015 International CES was the perfect place for us to showcase MacKeeper" says CEO Alexander Kernishniuk.
MacKeeper was located in the Las Vegas Convention Center's North Hall at booth 3921. The human assistance service also known as "Human Inside" is available now from their official website. MacKeeper is available in 18 different languages and offers a wide range of tools for cleaning, security and optimization. For more information on MacKeeper please visit the official website, mackeeper.com.