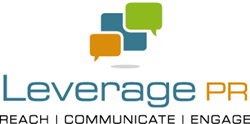 austin, texas (PRWEB) January 22, 2015
The South by Southwest (SXSW) Interactive Festival today announced Leverage PR as its official agency of record for the SXSW Accelerator startup pitch competition. The Austin-based strategic communications firm works with U.S. and international companies in the financial, technology, real estate and healthcare industries. Leverage PR leadership and staff have years of experience in developing campaigns for both enterprise brands and disruptive early- and growth-stage technology companies, making the agency a good fit for the SXSW Interactive Accelerator competition, targeting the nation's most innovative technology startups.
"Leverage PR's experience and expertise in cultivating strong relationships in the startup community aligned well with SXSW Interactive's mission to showcase the best emerging startups and talent within SXSW Accelerator," said Kelly Krause, head of SXSW Interactive press and publicity. "They have been a great asset to the team and we're glad to work with them for the 2015 season."
Now in its seventh year, SXSW Accelerator is the marquee event of SXSW Interactive's Startup Village. The competition brings together 48 leading startups from around the world to present their cutting-edge innovations to a live audience and expert panel of judges. Over the past six years, more than 50 percent of SXSW Accelerator finalists have gone on to receive funding in excess of $1.78 billion and 12 percent have been acquired by high profile companies including Google, Live Tree, Facebook, Huffington Post, Apple, Live Nation and Constant Contact.
Leverage PR is working with the SXSW Interactive team in a variety of capacities including communication efforts to SXSW Accelerator participants and media relations outreach, helping to share the economic impact and overall success that Accelerator participants are making in the market. The agency will also be on hand during the conference to offer support for the SXSW Accelerator pitch competition and assist with announcing this year's winners.
"The SXSW Interactive Festival is a must-attend event for innovative companies and creatives from around the globe," said Joy Schoffler, founder and principal of Leverage PR. "Working heavily in the technology industry, we have been attending and working the festival on behalf of clients for years and have seen firsthand the business impact that SXSW has for attendees. The ability to work with the event organizers and promote Accelerator's stories of success and innovation is a great honor."
About Leverage PR
Leverage PR is a full-service public relations firm delivering strategic planning, media relations and communications strategies to companies within the financial, technology, real estate and healthcare industries. Leverage PR works closely with its clients to achieve business goals, increase brand awareness and establish credibility through consistent media coverage, targeted speaking opportunities and insightful thought leadership campaigns. For more information, please visit http://www.leverage-pr.com.