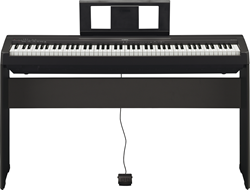 "These new P-Series digital pianos bring Yamaha piano touch and tone to the entry-level piano buyer and offer impressive updates over the market-leading models they replace," said Dane Madsen, Yamaha Corporation of America.
ANAHEIM (PRWEB) January 23, 2015
Yamaha today introduced two new P-Series portable digital pianos at the 2015 NAMM Show, the P-115 and P-45. The new models represent the next generation of the company's popular line, offering enhanced sound and new features for both practice and performance.
"These new P-Series digital pianos bring Yamaha piano touch and tone to the entry-level piano buyer and offer impressive updates over the market-leading models they replace," said Dane Madsen, marketing manager, Digital Pianos, Yamaha Corporation of America. "The beginner pianist will immediately appreciate the sound quality and user-friendly features now available in instruments that can be easily transported from the home to the studio and eventually to the stage, when they're ready."
The P-115, which replaces the P-105 (Yamaha's top-selling digital piano and winner of Keyboard magazine's Key Buy Award), delivers Yamaha's unmistakable piano touch and tone in a compact design and at an affordable price. Its Pure CF Sound Engine faithfully reproduces the sound of Yamaha's renowned CFIIIS 9-foot concert grand piano. This, combined with improved damper resonance and reverb effects, gives players the ability to make music with dynamics, expressiveness and power not typically possible with a digital piano of this size or price.
Other key additions to the P-115 include a controller app for iOS, expanded polyphony (192 notes) and more drum rhythms (14). The Aux outputs and USB port enhance the model's versatility and connectivity while the optional furniture stand and piano-style pedal unit give the P-115 an appearance better suited for the home.
The new P-45 is an ideal digital piano for beginning piano students. This lowest-priced, 88-note, weighted model offers an authentic acoustic piano feel with heavier touch for the low notes and lighter touch on the high end. Graded Hammer Standard (GHS) keyboard action and the instrument's matte black key tops allow practicing players to build the proper finger technique for performing on an acoustic piano.
The P-45 also features Advanced Wave Memory (AWM) stereo sampling, which uses digital technology to better emulate an acoustic piano's sound. Using two microphones to record the samples ensure a deeper, richer and more spacious sound at players' fingertips. AWM stereo sampling also allows the P-45 to play one sample per key at varying levels of volume and timbre.
Another prime upgrade over the previous model is 64-note polyphony. Conventional digital pianos can quickly run out of notes, cutting-off during sustained playing as the instrument "steals" held notes to make room for new ones. The P-45 virtually eliminates this issue, enabling a maximum of 64 notes from one or multiple instrument Voices to be played simultaneously during dense piano passages.
Pricing and Availability
The P-115 (MSRP: $999) and P-45 (MSRP: $499) portable digital pianos will ship in March 2015.
For more information, visit the Yamaha Booth at the 2015 NAMM Show in the Anaheim Marriott Hotel, Marquis Ballroom, January 22-25, 2015, or http://4wrd.it/usayamaha.
-END-
About Yamaha
Yamaha Corporation of America (YCA) is one of the largest subsidiaries of Yamaha Corporation, Japan and offers a full line of award-winning musical instruments, sound reinforcement and home entertainment products to the U.S. market. Products include: Yamaha acoustic, digital and hybrid pianos, portable keyboards, guitars, acoustic and electronic drums, band and orchestral instruments, marching percussion products, synthesizers, professional digital and analog audio equipment, Steinberg recording products and Nexo commercial audio products, as well as AV receivers, amplifiers, Blu-ray/CD players, iPod docking systems, home-theater-in-a-box systems, earphones, headphones, sound bars, and its exclusive line of Digital Sound Projectors. YCA markets innovative, finely crafted technology and entertainment products and musical instruments targeted to the hobbyist, education, worship, professional music, installation and consumer markets.