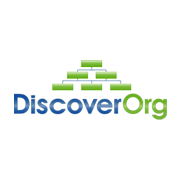 Customers will close deals faster than ever when pairing the high quality of our continually refreshed database with leading sales and marketing platforms used today - Henry Schuck, DiscoverOrg Co-founder & CEO
VANCOUVER, Wash. (PRWEB) January 23, 2015
DiscoverOrg (http://www.discoverorg.com), the leading IT sales intelligence provider, today announced the immediate availability of HubSpot Webhooks for DiscoverOrg, a tool designed to streamline lead management and provide IT companies with cross-platform access to actionable real-time data on customers and prospects.
HubSpot Webhooks for DiscoverOrg enables the sharing of data across platforms, bringing the comprehensive sales intelligence of the DiscoverOrg database to HubSpot users within their instance. The integration improves the performance of marketing automation and lead nurture programs. Contact data in HubSpot is automatically updated and appended by the DiscoverOrg database allowing instant lead qualification and segmentation for targeted messaging and segmented lead management.
Rather than spending valuable cycles researching or waiting on progressive profiling to complete contact data, sales reps can capture the momentum from a prospect who has visited a trade show booth or downloaded a piece of collateral with far more reliability and velocity than was previously possible. Sales and marketing teams will have instant access to complete and accurate lead information including job title, direct dial phone number and verified email address. Contact data will be supplemented by actionable intelligence such as detailed job responsibilities, department reporting structure, technologies installed, leadership changes, and spending initiatives.
Learn more about HubSpot, Marketo, Eloqua and other integrations with a personalized demo.
DiscoverOrg integrations into popular marketing automation platforms such as HubSpot, Eloqua, and Marketo provide the most comprehensive approach to lead management available on the market. DiscoverOrg gets sales teams in front of prospects faster and better prepared than any other data intelligence solution.
Powerful Sales Acceleration
"Constantly adding improvements to our sales intelligence platform - such as integrations with leading marketing tools like HubSpot - furthers our commitment to provide our customers with rapid access to actionable account intelligence." said Henry Schuck, co-founder and CEO of DiscoverOrg. "By leveraging both platforms, customers will close deals faster than ever when pairing the high quality of our continually refreshed database with leading sales and marketing platforms used today."
Other benefits of HubSpot Webhooks for DiscoverOrg include:

Updating and appending the existing contacts in your database automatically , including the most up-to-date contact information and job titles as well as the records of those who have left the company
Enhancing the impact of standard webforms used for inbound lead generation by appending form data and HubSpot providing better insight to qualify and segment leads, enabling more targeted messaging to nurture them to close faster, reducing the cost per lead and cost per sale.
Automation of lead data cleansing provides sales and marketing teams with continuously refreshed data throughout the lead/contact lifecycle so that they have lead data that they can depend on every time in the platforms that they use regularly.
Learn how HubSpot Webhooks for DiscoverOrg can help you shorten sales cycles and drive more sales. Get a personalized product demo.
About DiscoverOrg
DiscoverOrg is the leading sales and marketing intelligence provider used by the top technology vendors, staffing companies and consultants targeting IT, Finance and Marketing departments of Fortune-ranked, Mid-Market and SMB companies in North America and Europe. Offered in the form of a constantly refreshed database, DiscoverOrg specializes in mapping out the org charts of 19,000 companies complete with verified email addresses, direct-dial phone numbers, reporting structure, new projects and initiatives and technology install base. Each of the over 400,000+ decision makers in the DiscoverOrg database are updated and refreshed by the company's team of 150+ researchers at least once every 90 days, enabling customers to reach the right person at the right company with the right message. For more information, please visit http://discoverorg.com/.