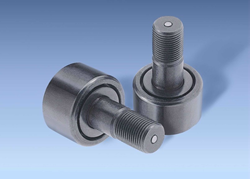 Yonkers, NY (PRWEB) January 27, 2015
Graphite Metallizing Corporation announces GRAPHALLOY® self-lubricating metric dimension cam followers. These metric cam followers are available in a variety of sizes suitable for a wide range of applications.
GRAPHALLOY metric cam followers do not contain oil or grease to harden, burn up, contaminate or wash away. They are designed to handle moderate loads and speeds of up to 100 RPM. They provide reliable performance in temperatures up to 750°F (400°C).
Typical applications include bakery and industrial ovens, steel mill processing lines, glass plants, conveyors, kilns and stokers. GRAPHALLOY cam followers also perform in low temperature environments of -100° F (-75°C ) and in wet or submerged applications.
GRAPHALLOY, a graphite/metal alloy, is a uniform, solid, self-lubricating material. GRAPHALLOY cam followers will not deform under load, maintain dimensional stability and provide a constant low coefficient of friction for improved wear. GRAPHALLOY cam followers are especially suitable in applications where lubrication or maintenance tasks are cumbersome, difficult or impossible to perform.
For more information about GRAPHALLOY products, visit http://www.graphalloy.com.
About GRAPHALLOY and Graphite Metallizing Corporation
Graphite Metallizing Corporation of Yonkers, NY has been solving tough bearing problems for over 100 years. The company began in 1913 when two engineers developed a method for putting molten metal into carbon to create a new material called GRAPHALLOY, a graphite/metal alloy.
Used in the manufacture of bushings, bearings and other components for machinery and process equipment, GRAPHALLOY can be the solution to the toughest bearing, bushing, thrust washer, cam follower, or pillow block bearing design problem. It is available in over 100 grades with specific properties that meet a wide range of engineering solutions and specifications. FDA accepted grades of GRAPHALLOY are available for use in food service equipment. NSF® International has certified two grades of GRAPHALLOY material for use in municipal well pumps and water treatment plant applications.
GRAPHALLOY bearings have operated for 20 years and longer in some applications. Standard designs are available but most GRAPHALLOY products are custom designed to the unique requirements of the specific application. Graphite Metallizing Corporation is ISO certified. For more information about Graphite Metallizing and its products, please visit us online at http://www.graphalloy.com or call +1-914-968-8400.
------------------------------------------------------------------------------------------------------------
For more information contact:
Graphite Metallizing Corporation: Eric Ford, eric.ford(at)graphalloy(dot)com, +1-914-968-8400