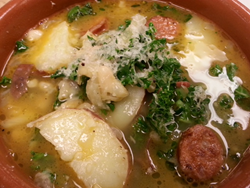 Chefs from restaurants at Benchmark Resorts & Hotels® and Personal Luxury Resorts & Hotels® provide striking new takes on this iconic comfort food.
The Woodlands, Texas (PRWEB) January 23, 2015
January is National Soup Month, celebrating a dish that is as old as cooking itself. Chefs from restaurants at Benchmark Resorts & Hotels® and Personal Luxury Resorts & Hotels® provide striking new takes on this iconic comfort food.
Every culture in history has its own versions of this culinary classic food. From delicate bisques to hearty stews, the Benchmark chefs add unique, regional flavors to their soup creations. A culinary tour of what Benchmark chefs offer includes:
The Little Farms Sunchoke Soup, from Chef Victor Scargle at Bardessono in Napa Valley, features freshly sourced local ingredients and vegetables from the hotel's expansive gardens. The flavorful blend creates a unique, California soup.
The Council House Conference Center in Racine, Wisconsin suggests their Beer, Cheese and Butternut Soup by Chef Dawn Knutson. Craft beer and Wisconsin Cheddar, what could be better?
The Bonaventure Resort & Spa in Weston, Florida suggests a hearty soup that features Florida's legendary seasonal crabs are the main ingredient. Chef Bob Axenfeld's delicious Stone Crab bisque will transport soup lovers to the edge of the Everglades, regardless of where they are located.
Speaking of delicious seafood, the Villas of Grand Cypress in Orlando, Florida has a sure-to-please soup with Chef Lonny Huot's Florida Corn & Crab Chowder. The Floribbean fusion combines Florida crabs and fresh corn, spiced with a Creole seasoning. It is a must try.
The Chattanoogan Hotel in Tennessee is known for Chef Adam Roe's Salisfy soup. Southern comfort and local produce are found in the Salsify Soup served at the hotel's Broad Street Grille.
Chicagoland's Eaglewood Resort & Spa evolves the craft beer trend with their suggestion of the Illinois Farm Roasted Church Beer Corn Chowder with Smoked Hungarian Paprika Chili Corn Oil. Chef John Billings' chili-spiced corn chowder is just the thing to warm up a cold winter's night.
The Hotel Contessa in San Antonio, Texas features prized Serrano ham and Manchego cheese in their Caldo Gallego. Hotel Contessa's take on one of the most traditional Spanish soups is soaked in Spanish flair and modern artistry.
The Inn at Rancho Santa Fe in Rancho Santa Fe, California delights with the Chilled Hass Avocado Soup with Grilled Spiny Lobster Ceviche by Chef Todd Allison. Pacific spiny lobsters and avocado highlight the sophisticated California cuisine served at the resort's signature restaurant, Morada.
The Snow King Resort in Jackson Hole, Wyoming is known for its Smoked Trout Chowder. The Smoked Trout in Chef John Ladd's rich chowder is fresh from the mountain streams surrounding the resort and is served with toasted ciabatta bread.
The Heldrich in New Brunswick, New Jersey suggests Chef CJ Chambers' New England Clam Chowder with Crispy Potato Dumplings. A tasty twist on the traditional recipe, the Heldrich's version, served at Christopher's Restaurant, features crispy potato dumplings that enliven a classic and creamy New England Clam Chowder.
The Inn at Virginia Tech in Blacksburg, Virginia is known for its Yukon Gold Potato and Kale soup. This healthy and hearty Potato and Kale Soup by Chef David Oehirng, is on the menu at Preston's, known for its fine fare and award-winning wine cellar.
The Willows Lodge in Woodinville, Washington and its acclaimed Barking Frog restaurant offer Pacific Northwest cuisine with a twist - short ribs on the side of a rich celeriac soup. Chef Bobby Moore's Celeriac Soup is fragrant, mild and versatile, while the Braised Short Ribs are rich and satisfying. Together they are remarkable.
For the full list of recipes, please visit: Benchmark Resorts & Hotels and Personal Luxury Resorts & Hotels Celebrate National Soup Month.
About Benchmark Resorts & Hotels®
Benchmark Resorts & Hotels® represents the finest in lodging, dining, recreational and meeting accommodations. Many are certified by the International Association of Conference Centers, the leading professional organization governing the multi-billion dollar conference center industry on five continents, and many have also been recognized with the coveted Benchmark Conference Centers® certification of meeting excellence. Benchmark Resorts & Hotels deliver highly specialized service that anticipates guests' needs and ensures a hospitality experience unsurpassed and long remembered. http://www.benchmarkresortsandhotels.com.
About Personal Luxury Resorts & Hotels®
Personal Luxury Resorts & Hotels® includes unique hand-picked properties in spectacular U.S. destinations coast to coast. Each hotel and resort delivers personal luxury in a spirit true to its own distinctive locale, yet in keeping with the collection's shared mission. They represent a select portfolio of Benchmark Hospitality International®, which has been a leading US-based hospitality management company for over 30 years. Personal Luxury Resorts & Hotels is the preferred choice of guests who yearn for transformation over accommodation, customization over conformity, and inspiration over predictability. With Personal Luxury Resorts & Hotels, luxury is always personal. http://www.personalluxuryresortsandhotels.com.