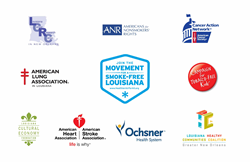 We are tremendously grateful to all the key city officials who stood up and took action to protect the health of all employees
New Orleans, La. (PRWEB) January 22, 2015
New Orleans, one of the South's largest major tourist cities with a high-grossing land-based casino and more than 500 bars within the city limits, made history today by becoming the largest city in Louisiana to unanimously pass a comprehensive, 100 percent smoke-free ordinance.
The Coalition for a Tobacco-Free Louisiana (CTFLA) applauds and thanks the New Orleans City Council for their unanimous vote today in favor of protecting the health of all New Orleans employees by making all workplaces, including bars and gaming establishments, smoke-free.
The smoke-free measure, championed by Councilwoman LaToya Cantrell and co-sponsored by Councilwoman Susan Guidry, ensures that all employees, including bartenders, gaming facility employees, and entertainers, will be protected from the dangerous health effects of secondhand smoke in the workplace. The ordinance will go into effect 90 days from passage.
"We are tremendously grateful to all the key city officials who stood up and took action to protect the health of all employees;" said Tonia Moore, Associate Director, the Louisiana Campaign for Tobacco Free Living (TFL). "We want to send a special thanks to the ordinance sponsors Councilwoman Latoya Cantrell and Susan Guidry. These leaders not only did the right thing for the health of all New Orleans citizens, but they have continued paving the way for other cities and the state to hopefully do the same."
"The city of New Orleans has just become a very important leader in the fight against cancer," said Ryan West, Louisiana Government Relations Director. "We are very grateful to the city council for listening to the voices of New Orleanians and passing an ordinance ensuring bar and casino workers will no longer have to choose between their health and a paycheck."
"We are so thankful to the officials who decided to protect all citizens and visitors in our great city from secondhand smoke," said Kay Eddleman, American Heart Association Louisiana Advocacy Committee chairperson. "This law will save many lives from cardiovascular disease, our city's biggest health threat."
"Today is a great example of strong leadership understanding the health hazards that secondhand smoke causes and representing the voices of the non-smoking majority," said Onjewel Smith, Southern States Regional Consultant, Americans for Non-smokers Rights Foundation. "New Orleans now joins other top tourist destinations that feature comprehensive smoke-free ordinances, including Dallas, Chicago, Boston, San Francisco, Honolulu, and New York City."
More than 6,500 Louisianans die from smoking-related causes yearly and costs Louisiana almost $1.5 billion in health care costs every year. The evidence on secondhand smoke's toll on public health is clear. Secondhand smoke contains more than 7,000 chemicals, hundreds of them are toxic and at least 69 cause cancer. In addition, the Surgeon General has found that secondhand smoke causes heart disease and lung cancer in nonsmoking adults and respiratory problems, sudden infant death syndrome, and low birth weight in infants and children.
###