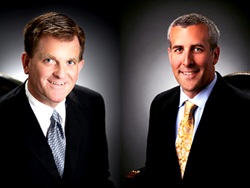 Bala Cynwyd, PA (PRWEB) February 03, 2015
Philadelphia Insurance Companies (PHLY), a leading commercial property/casualty and professional liability insurance company for niche markets, announces the promotion of two Vice Presidents to Senior Vice President. Bob Morgan is now Senior Vice President of Underwriting and Seth Hall assumes the position of Senior Vice President of Customer Service.
Mr. Morgan will continue oversight of PHLY's Habitational, Real Estate, and Small Business Unit (commercial property) segments in his new position.
"Bob has played a critical role in driving strategy and success around our property business," Executive Vice President and Chief Underwriting Officer John Glomb commented. "His expertise in commercial property insurance will continue to enhance the direction and growth of the Underwriting department in this new role."
Mr. Morgan has a 35-year career in the insurance industry. In 1989 he was hired as the first employee to develop and lead the underwriting team at Community Association Underwriters. He eventually rose to the position of Senior Vice President. He joined PHLY in 2006 as Vice President of the Habitational Division and his role was expanded to include oversight of real estate products in 2014. Mr. Morgan graduated from the College of Insurance (now part of St. John's University) in New York, NY. He is a member of the CPCU Society of America, the Society of Financial Service Professionals, and Community Associations Institute.
Seth Hall joined Philadelphia Insurance Companies in 2009 as the Vice President of Customer Service. Over the past five years, his key responsibilities have expanded to include the oversight and direction of PHLY's Account Management team, as well as being a leader for key strategic initiatives.
"Seth is an outstanding leader, who motivates our employees and has helped improve service across our company," shared Brian O'Reilly, executive vice president and chief marketing officer. "By leading several key business initiatives, including Voice of the Customer, PHLY has received recognition from our customers and industry for exceptional service."
Mr. Hall's career began as a Management Consultant for Accenture (formerly Andersen Consulting) focused specifically within Service Operations within the Property & Casualty industry. He then started and eventually sold a company he co-owned in Dallas, TX. He then returned to the customer service industry working as a consultant for eLoyalty, before moving on to oversee CIGNA International's global service operations. Mr. Hall is a graduate of Pennsylvania State University.
Headshots are available upon request by emailing phlypr(at)phly(dot)com.
About Philadelphia Insurance
Philadelphia Insurance Companies designs, markets, and underwrites commercial property/casualty and professional liability insurance products incorporating value added coverages and services for select industries. In operation since 1962, the Company, whose commercial lines insurance subsidiaries are rated 'A++' (Superior) by A.M. Best Company and 'AA-' for counterparty credit and financial strength by Standard & Poor's, is nationally recognized as a member of Ward's Top 50, National Underwriter's Top 100, and one of the Top 150 Workplaces in America. Policies are underwritten by Philadelphia Indemnity Insurance Company. The organization has 49 offices strategically located across the United States to provide superior service. For more information, please visit http://www.PHLY.com.