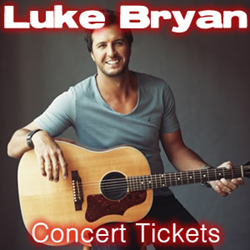 The new Luke Bryan 2015 tour called Kick The Dust Up starts in Grand Forks and Sioux Falls in May. Tickets go on sale today and remain available even after the box office is sold out at LukeBryanConcerts.com online.
Sioux Falls, SD (PRWEB) January 23, 2015
The new Luke Bryan 2015 tour, called the Kick The Dust Up Tour, starts on May 8, 2015, at the Alerus Center in Grand Forks, ND. A concert the following night, May 9, 2015, takes place at Denny Sanford Premier Center in Sioux Falls, SD. Luke Bryan recently announced that the 2015 tour will include 7 stadium shows at cities like Denver, Minneapolis, Nashville, Santa Clara, Cleveland, Cincinnati and Detroit. For the stadium shows, Luke will be joined by Florida Georgia Line and Thomas Rhett. Also new this year, Luke will be doing shows 2 nights in a row at 13 venues. These "doubles" with be in cities like Chicago, Dallas, Irvine, Bristow VA, Maryland Heights MO, Noblesville IN, West Palm Beach FL, and Camden NJ. Fans can find seats for all Luke Bryan concerts at all other venues including tickets for remaining That's My Kind of Night Tour stops at LukeBryanConcerts.com online.
In addition to the Luke Bryan concert in Sioux Falls, the Denny Sanford Premier Center will feature performances by Kenny Chesney, Bob Seger and Nickelback.
Apart from Luke Bryan headline concerts, Luke performs at the Farmborough Festival in New York and the Willamette Country Music Festival in Eugene.
Luke Bryan's notoriety as a country music artist seems to just keep on rising. Luke is the 2014 CMA Entertainer of the Year Award winner. Luke's latest number one hit is titled "Roller Coaster" and fans will likely hear it performed this year. While the Luke Bryan 2015 tour will surely feature many of his new songs, those attending will hear some old favorites too. With the exception of the 7 stadium shows, Luke is joined on this tour by country music artists Randy Houser and Dustin Lynch
Many of these Luke Bryan Sioux Falls or Grand Forks tickets may be purchased with an E-Ticket option, meaning a paper ticket may be printed right from the buyer's computer. The printed tickets and computer systems at the arenas hosting Luke Bryan concerts make using the last minute tickets printed at home easy. With the 125% ticket guarantee of authenticity and guaranteed admission to the Luke Bryan concert, fans need not be concerned about an E-ticket. Many tickets may still be shipped via next day courier or picked up near the venue too. Buying tickets on the street before a show has become a gamble, inviting fraud; play it safe and buy last minute tickets from a trusted source owned by a company with a longstanding excellent history with the BBB.
TicketsCheapest.com also sells cheap sports tickets, as well as tickets to all major sporting events across the country. Armed forces personnel can find seats with a military discount and even free tickets to selected events.
Buy seats now and pay less at LukeBryanConcerts.com from TicketsCheapest.com, where price surveys prove fans will find seats cheaper here than on other resale sites. In yet another price comparison recently, TicketsCheapest.com again beat 25 out of 25 other sites, including Stubhub. Find the right Luke Bryan tickets online or by phone at 855 805 5266.
About Financial Firebird, Luke Bryan Concerts and Tickets Cheapest:
The sites with special software to find cheap concert tickets are affiliated with the Financial Firebird Corporation Travel Group. Financial Firebird Corporation, established in 2000 and a proud BBB member, provides unbiased consumer information. These ticket sales sites operate in the resale market and maintain no relationship with the venues or performers. The resale ticket market allows consumers access to popular events once the box office sells out or to buy premium seats when the venue no longer offers any inventory. Within the group of these secondary market ticket services, the Financial Firebird owned ticket sites offer lower prices than competitors. Find the sites at LukeBryanConcerts.com and TicketsCheapest.com.