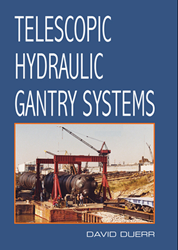 (PRWEB) January 26, 2015
Author David Duerr, P.E., recently described his book, "Telescopic Hydraulic Gantry Systems," to Crane & Rigging Hot Line. The book is the first comprehensive handbook that addresses planning, engineering, and lifting with hydraulic gantry systems in construction and industrial environments.
In the book, Duerr includes a detailed history of the development of hydraulic gantry systems, which were first introduced in 1963. He also provides a discussion of the basic features and capabilities of gantries, including their main components and functions. He looks at the types and nature of the loads that act during a lift and provides a stability analysis. Other topics include lift planning considerations, engineering of header beams and track systems, industry standards, safety, and risk management.
Duerr, the president of consulting engineering firm 2DM Associates, draws on his experience of providing engineering and technical services to the heavy lifting and transportation markets. He has worked on projects in power generation, manufacturing, petrochemicals, medicine, the space program, and high-energy physics research.
Duerr is currently serving on several ASME committees, including those for Below-the-Hook Lifting Devices and Jacks, Industrial Rollers, Air Casters, and Hydraulic Gantries.
"Telescopic Hydraulic Gantry Systems" is available from the Industrial Training International bookstore, as well as on Amazon.com and BN.com
About Maximum Capacity Media Group Inc.
MCM Group LLC, a subsidiary of Heartland Communications Group Inc., publishes a number of heavy equipment magazines, electronic newsletters, and websites for the North American market. Its print products—Crane and Rigging Hot Line, Lift and Access, Contractors Hot Line, Attachment Connection, and Parts Connection—analyze new technologies, discuss industry trends, and review unique applications for buyers and owners of construction and rental equipment.