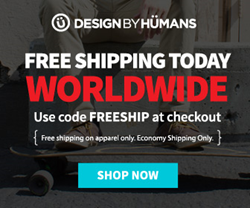 To celebrate our 2015 T-shirt Design Trend Report, Design by Humans is having a free shipping sale all next week
(PRWEB) January 26, 2015
CHICO, Ca. (Jan 27th, 2015) – To celebrate our 2015 T-shirt Design Trend Report, Design by Humans(DBH) is having a free shipping sale all next week, offering free worldwide shipping on apparel. The sales runs from January 23, 2014 - February 1, 2014, DBH, using coupon code FREESHIP, t-shirts, sweatshirts, hoodies all ship free. This is the perfect time to stock up on the 2015 trending shirts.
2014 saw a lot of trends based on parody, TV shows and gaming. While those themes will stick around there will be new fresh ideas blossoming all year long. Check out the full trend report here.
Big Hit Movie Art
As movie releases approach, people look for tees to wear when they go and see much-anticipated movies. With some huge movies already announced for 2015 look for some cool art based parody tees that will explode onto the Collective.
Cute Freehand Type and Illustration
This trend appeared in the later part of 2014 but I think it's going to continue to grow. It's the mix of an illustrated character (usually cute) with a funny hand drawn slogan alongside it.
Symbolic Designs
The symbolic art trend has been slowly growing. Symbols and signs that either stand out or make you feel like you are a part of a fan base will feature more and more in 2015. Obscure symbols, illuminati, logos, slogans and religious symbols are all growing across the collective.
Slogans & Sayings
T-shirts have always been about making a statement. It started with the poster parody of "Keep Calm" but is now growing into more obscure references and ideas.
Amazing Art Coupled with Popular Themes
Art is awesome. Art coupled with a popular theme is way more likely to succeed in the apparel industry.
Animals and Nature
Around 40% of the Top 50 Most Wanted List features an animal or something nature related. The more our world is pushed into global crisis the more people seem to identify with animals and nature.
White Tees
There was a time when white tees were the least popular tee color in the apparel world BUT that is changing. White tees are now cool and striking graphics on those white tees are even more trendy.
Celtic and Tribal Art
The intricate lines of tribal art and the beauty of Celtic art seem to be making a come back. Think The Book of Kells for the 2015 people. Think tribal stylings mixed with modern day icons, doesn't sound too bad now does it?
Highest Quality Apparel
Design By Humans offers their customers and artists a large selection of high-quality products. With the addition of new products, sizes and colors to their already outstanding product line, DBH has created a unique opportunity for their customers to create amazing, custom DBH apparel that fits and illustrates their own unique lifestyle. With over 25,000 designs available and a wide selection of colors, each customer has an almost endless selection of one-of-a-kind products: T-shirts, Sweatshirts, Hoodies, Tank Tops, Phone Cases and Glicee Art Prints.
Design By Humans also strives to offer their customers and artists a wide variety of customizable apparel and products using the most efficient, vibrant, and eco-friendly DTG printing practices. All graphic apparel from Design By Humans has been garment-dyed and washed for exceptionally vibrant prints, premium softness, and minimal shrinkage. All graphic apparel will also continue to uphold Design By Humans' commitment to the environment by using sweatshop-free blanks and eco-friendly inks.
About Design By Humans
Design By Humans was started in 2007 with the simple vision of bringing artists from around the globe together to give them a platform to produce wearable art that tells a story, strengthens humanity and inspires life through creativity and design. The DBH Collective initiative is inspiring amazing artists and giving them a unique foundation to share artwork through a personal online storefront.
###
If you'd like more information about this topic, please call +855 333 9836 x 302 or email press(at)designbyhumans(dot)com.