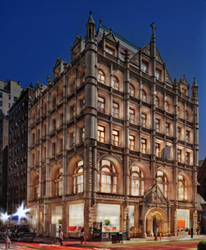 This building, located in one of the most happening areas of Manhattan, is a building I've always admired as art.
New York, NY (PRWEB) January 29, 2015
In a unique Manhattan investment sales transaction, RFR Holding LLC, along with joint venture partner Real Estate Capital Partners, has closed on the acquisition of 281 Park Avenue South, a historic pre-war 44,000 square-foot office building in Midtown South, for a purchase price in excess of $50 million. The transaction was brokered by Savills Studley, the leading global commercial real estate firm.
Savills Studley's Senior Managing Director, Howard Poretsky, and Senior Managing Director Patrick Gardner, along with John Ciraulo and Robert Shapiro of Massey Knakal, represented the seller in the transaction, the Federation of Protestant Welfare Agencies (FPWA). FPWA has owned and managed the landmark property for more than 50 years, and will reinvest the money from the sale in the organization to tackle social issues that affect the poor and working poor, and to support member agencies. Both Poretsky and Gardner have significant experience in representing not for profit organizations.
According to Poretsky, the transaction closed just before the end of Q4 2014 making it one of the biggest deals in the neighborhood during the quarter. However, he notes that the "social impact" of the transaction will influence the surrounding community for generations to come.
"This building, located in one of the most happening areas of Manhattan, is a building I've always admired as art," Poretsky said. "I've covered the Midtown South area long before the media / tech wave and have walked past this building over a thousand times in my career; not once could I walk past it without stopping to admire its magnificence and stature."
"Besides the delight of crafting such an important and beneficial transaction on behalf of the Federation of Protestant Welfare Agencies that will sustain their mission of refining social issues, it was reassuring to find a buyer in Mr. Rosen who appreciates the architectural features throughout the entire building and who will likely preserve this incredible, centrally located city landmark," Poretsky added.
Located steps away from Madison Square Park, Gramercy Park and Union Square, the iconic six-story property, on the southeast corner of E22nd Street, features a distinctive terra cotta stone façade, as well as a restored copper and terra-cotta roof, marble mosaic floors, wood wainscoting, and stained glass windows. The 106-year-old building was officially designated a New York City landmark in 1979 and was added to the National Register of Historic Places in 1982. New ownership plans to reposition the property for future office use.
About Savills Studley
Savills Studley is the leading commercial real estate services firm specializing in tenant representation. Founded in 1954, the firm pioneered the conflict-free business model of representing only tenants in their commercial real estate transactions. Today, supported by high quality market research and in-depth analysis, Savills Studley provides strategic real estate solutions to organizations across all industries. The firm's comprehensive commercial real estate platform includes brokerage, project management, capital markets, consulting and corporate services. With 25 offices in the U.S. and a heritage of innovation, Savills Studley is well known for tenacious client advocacy and exceptional service.
The firm is part of London-headquartered Savills plc, the premier global real estate service provider with over 27,000 professionals and over 600 locations around the world. Savills plc is listed on the London Stock Exchange (SVS.L).
For more information, please visit http://www.savills-studley.com and follow us on Twitter @SavillsStudley and LinkedIn.