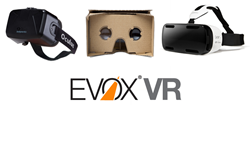 It is absolutely stunning and we can't wait to share it.
Rancho Dominguez, CA (PRWEB) January 23, 2015
EVOX Images, the pioneer vendor for 360 immersive automotive displays for over 20 years, has developed the next generation 360 3D content that is compatible with an array of VR headsets including: Oculus Rift™, Google Cardboard™, and Samsung Gear VR™.
"When car shoppers look through the lens of a VR headset, EVOX VR will transport them into a vehicle interior or into a vehicle 'showroom.' The experience with the latest Oculus Rift™ is absolutely stunning and we can't wait to share it," said David Falstrup, CEO EVOX Images.
EVOX is positioned at the forefront of game changing technology that will suddenly put Virtual Reality in the hands of the consumer. Virtual Reality is poised to transform the way digital media is consumed; it will begin with millennials, already familiar with gaming environments, then spread quickly to a broader audience as the transformative experience provided by VR headset technology is realized and embraced by the majority of the consumer marketplace.
To learn more about EVOX VR or to experience it for yourself, please visit evoxvr.com on your mobile phone and view Google Cardboard and similar VR mobile headsets.
About EVOX IMAGES
EVOX IMAGES™ Driving Innovation in Automotive Imagery™
EVOX provides rapid large-scale global image creation solutions on demand with a focus on VR and 360 images. In addition, our stock image database offers the absolute, most complete package of unbiased, consistent still and 360 vehicle imagery on an unmatched delivery schedule and highest quality.

Global Build-To-Order Content Creation + Comprehensive Automotive Stock Image Database
Providing highest-quality high-speed content solutions to OEMs and Agencies worldwide
Licensed by over 22,000 dealer websites and the top automotive portal sites
Imagery available starting MY2000
More than 1 million car images 24/7 on http://www.evoxstock.com