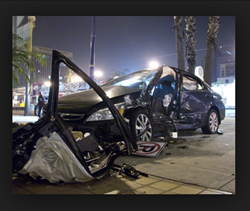 "Over 169,000 persons have been killed in DUI fatalities since 1999,"
San Francisco, CA (PRWEB) January 26, 2015
After 14 years promoting a wide range of enforcement and public information campaigns, new data released from the National Highway Traffic Safety Administration (NHTSA) shows no progress in the battle against drunk DUI driving in the United States.
According to the 2013 data that was just released*, 10,076 friends, family, & loved ones died in crashes involving a drunk driver. The 10,076 killed in DUI driver crashes represents 30.9% of all fatalities and has not declined in the 14 years since 1999, when the percentage was 30.1%**
"Over 169,000 persons have been killed in DUI fatalities since 1999," says Al Crancer, Jr. a retired NHTSA researcher, "All of this happening while the most recent National data showed a 22% decrease in total motor vehicle fatalities and a 33% increase in motor vehicle occupants restrained in fatal crashes over the same time period. The lack of progress was unnoticed in a December 2014 NHTSA report*** which showed no improvement in the percentage of DUI fatalities for 10 years and a significant increase in females as DUI drivers."
Crancer added "I think that there may be two possible causes for the lack of progress in decreasing the percentage of DUI fatalities which are noted in the study. First, the DUI arrest rate is down 31% with total DUI arrests down 23%. Second, the National Highway Traffic Safety Administration changed from a significant other message, "Friends don't let friends drive drunk" to a general deterrence message, which is now "Drive sober, or get pulled over"
The new messages stress the risk of being arrested if you drive DUI. As noted, the sharp decline in DUI arrests and arrest rate do little to support this approach.
The yearly total of about 10,000 DUI fatalities and the 169,000 persons killed by drunk drivers in the last 14 years of no progress paints a grim picture of the nation's program to reduce DUI.
For More Information on the Study:
Full Report: http://www.alancrancer.com/research.html
Al Crancer, Jr. 925-324-2093 - acrancer(at)bureaucat(dot)com
Alan Crancer 601-594-8015 - acrancer(at)gmail(dot)com

NHTSA Traffic Safety Facts Research Note, Motor Vehicle Crashes, Overview,
DOT HS 812 101: http://www-nrd.nhtsa.dot.gov/Pubs/812101.pdf
** NHTSA FARS Encyclopedia Table 1: http://www-fars.nhtsa.dot.gov/Trends/TrendsAlcohol.aspx
*** NHTSA Traffic Safety Facts 2013 Data, DOT HS 812 102, Table 3, Dec 2014: http://www-nrd.nhtsa.dot.gov/Pubs/812102.pdf