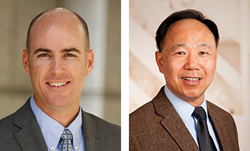 Waltham, MA (PRWEB) February 04, 2015
Today, Simpson Gumpertz & Heger Inc. (SGH), a 475-person national engineering firm, announced the addition of principals Sam Yao and Kevin O'Connell to their structural engineering practice in California. Sam and Kevin each bring extensive experience that aligns with SGH areas of growth. They also bring a combination of technical and management skills that strengthen the firm's ability to serve their clients.
Sam Yao is a registered Professional Engineer in California. He has more than twenty-five years of experience, primarily in heavy civil works projects, with concentrations in marine and construction engineering. Sam is internationally recognized for his heavy civil engineering design and consulting, as well as concrete technology. He has a particular expertise with "in the wet" construction, a subject on which he has authored several publications for the U.S. Army Corps of Engineers. His work includes design of piles and caissons, floating structures, locks and dams, bridges, underground structures, cofferdams, and excavation shoring for major buildings. He was selected to serve on the Structural Advisory Board for the recent Panama Canal Expansion. He is also an experienced investigator for forensic engineering of construction projects.
Working in SGH's Oakland, California location, Sam will contribute to their growing marine engineering practice. He will also continue his design and consulting work for heavy civil contractors.
Kevin O'Connell is a registered Structural Engineer in California. He has more than eighteen years of experience, primarily in new structure design, seismic retrofits, and the rehabilitation of historic buildings. Kevin frequently works on entertainment-industry-related projects and historic preservation projects. His recent projects include the Wallis Annenberg Center for the Performing Arts, DreamWorks Animation Lakeside Annex Building, and several large single-family residential estates. Kevin is the president of the Structural Engineers Association of Southern California where he has been a board member since 2009. He is also on the board of directors for the Western Chapter of the Association for Preservation Technology.
Working in SGH's Los Angeles, California location, Kevin will contribute to their growing structural engineering practice. He will also continue his design and rehabilitation work for owners, architects, and contractors in Southern California.
# # #
Simpson Gumpertz & Heger Inc. (SGH) is a national engineering firm that designs, investigates, and rehabilitates structures, building enclosures, and materials. Our award-winning work encompasses building, energy, civil/infrastructure, and science/defense projects in the United States, Canada, and more than thirty additional countries.
SGH has offices in Boston, Chicago, New York City, San Francisco, Southern California, and Washington, D.C. For more information, please visit http://www.sgh.com.