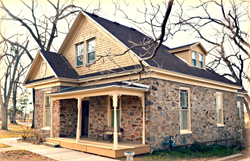 "There simply hasn't been a place like this within the Tooele Valley to host events and we are pleased to be offering such a place."
Stansbury Park, Utah (PRWEB) January 24, 2015
Conveniently nestled within the heart of the ever-growing community of Stansbury Park, Utah, and just west of the Benson Grist Mill, stands a quaint 1850s pioneer home and granary that haven't received much attention until recently. The Coulter Family along with a local contractor performed the hefty, yet rewarding undertaking of remodeling this two-story rock home. The finished project, after eight months of intense labor, is a historic event venue with a remarkably original vintage feel. It has been affectionately re-named the Coulter House. It not only represents the heritage of the Coulter Family itself, but ties generations and families together while celebrating the genealogy of the early settlers of the Tooele Valley. Through the Coulter Family's efforts, this newly restored event venue will continue to stand as a landmark for not only the Tooele Valley, but also for the Stansbury Park community.
The Coulter House is now open and available for all types of events including wedding receptions, family gatherings, community and religious events, consignment for antiques, holiday boutiques, small business incubator, art gallery, business meetings, funerals, art shows, birthday parties, quinceañeras, and various other types of events. A public open house will be held on Friday January 30th from 5 to 8 P.M with refreshments being served. On Saturday, January 31st from 10 A.M. until 2 P.M., a fundraiser will be held for the Stansbury High School FFA Chapter. They will be serving lunch and a $1.00 donation is requested to help support the local FFA Chapter. Additional information can be found by visiting The Coulter House Facebook page at http://www.facebook.com/thecoulterhousellc, by visiting the Coulter House website at http://www.coulterhousellc.com, or by calling (435) 840-5587.