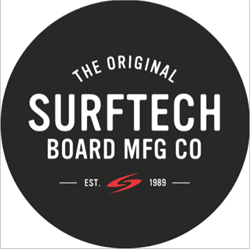 Carlsbad, CA (PRWEB) January 24, 2015
Surftech, the Original Board Manufacturing Company, announced today that it will be joining forces with Windsurfing Japan, one of Japan's most respected watersports product distributors, to be the exclusive representative for Surftech in Japan.
The new partnership is a part of the continuing global restructuring of Surftech, which began last year and has repositioned the brand as a leader in the Surfboard, Stand Up Paddleboard and Paddleboard action sports market. The new partnership will give Windsurfing Japan the exclusive rights to distribute and sell the entire lineup of Surf, Paddleboard and Stand Up Paddle product for Surftech in Japan.
"We are very honored to have a new partner like Windsurfing Japan to work with us in Japan." Chris Dunn CEO of Surftech "Japan is a very important market for us and we look forward to a great future with Windsurfing Japan."
Surftech, was founded over 25 years ago in Santa Cruz CA, and is regarded as the leader in the development and application of high performance composite technology in the surfing industry. This year has seen an influx of new products and technologies including TLPC (Tuflite Pro Carbon), Hyper-Drive Epoxy and Powerflex dual density foam. This high-quality proprietary construction technique has led to partnerships with top tier Surfing, SUP and Paddleboard brands including BARK, Channel Islands, Rusty, Simon Anderson, Robert August, McTavish and Mickey Munoz.
The new partnership with Windsurfing Japan will be kicked off at this year's InterStyle Tradeshow in Yokohama Japan, Feb 17-Feb 19, 2015 where a large sampling of the new boards will be on display.
ABOUT Surftech
Surftech, "The original board manufacturing company", was founded in 1989 in Santa Cruz CA. As a pioneer of new technologies, Surftech was the first company to introduce composite manufacturing to the surfing industry. The process provided a consistent finished product that was lighter and more durable than anything on the market. The success of the original process caught the attention of many of the world's top craftsman and the company grew rapidly. Surftech's business model has always been about board builders, giving them a way to scale and expand their businesses with a seamless solution that compliments their existing lineups. The international popularity of Surftech's technology created an increase in demand and fueled the need for global expansion. In the early 90's, Surftech partnered with a world-class international factory that matched their commitment to excellence, providing unparalleled capabilities, strong environmental practices, unmatched craftsmanship and most importantly could scale to meet demand.