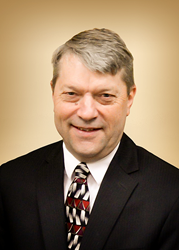 Marshall, MO (PRWEB) January 26, 2015
Wood & Huston Bank, a full-service community bank with deep ties to serving the people of central and southern Missouri, is pleased to announce the promotion of Don Knehans to the position of Community Bank President of Lafayette County for Wood & Huston Bank. "Don has been instrumental in Wood & Huston Bank's recent success in serving the Lafayette County community. His promotion to Community Bank President recognizes his many talents and contributions. In a relatively short period of time, he has established the Bank as a recognized leader in the area. His active participation in local government, on local boards and area projects provides a vital connection to our community and reflects the Bank's core values and community philosophy," said Barry Randolph, Chief Executive Officer. "We know Don is the right person for the job as the Bank increases its personal service to the residents and businesses of Lafayette County." Knehans has over 35 years of financial services, banking and agricultural industry experience. He began his career with MFA and entered banking in 1988. Since then he has held positions of increasing responsibility with several banks serving the retail and commercial needs of local customers. In 2014, Don led the opening of Wood & Huston Bank's newest banking center in Higginsville.
Don is an Alderman and Mayor Pro-tem for Higginsville, President of the Higginsville Chamber of Commerce and President of the Higginsville Community Betterment Corp. He is also past President and an active member of Higginsville Rotary and a board member of Main Street Higginsville.
Don and his wife, Libby, are life-long residents of Higginsville. Together they have three adult children, Kristen (married to Mike Crews), Brooke (married to Neal Wolf) and Cole Knehans, and 5 grandchildren. Don is a proud graduate of the University of Missouri with a BA in Animal Science.
About Wood & Huston Bank
Established in 1874, Wood & Huston is an independent, full-service community bank providing a wide range of quality financial products and solutions to the communities that they serve in Missouri--with branches and/or service locations in Cape Girardeau, Higginsville, Jackson, Marshall, Slater, Springfield and West Plains. Wood & Huston provides the convenience of online banking, mobile banking, mobile deposit and high-interest checking, along with competitive-rate loans for its customers. It's Wood & Huston's history and mission that distinguishes it from so many banking institutions. Personal service has been a legacy passed on from generation to generation for Wood & Huston Bank. The Bank operates with a philosophy that its reputation must be recreated every single day to meet each new challenge. Wood & Huston Bank is a member of FDIC and an Equal Housing Lender. To learn more about Wood & Huston, explore its website at https://www.woodhuston.com, drop by one of its convenient locations, or call (660) 886-6825.